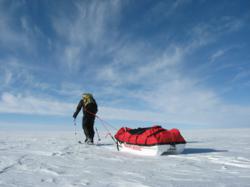 Temperatures reach below -50 degrees and hazards will include polar bears and regular swims in the ocean to cross open water
London, United Kingdom (PRWEB UK) 6 July 2011
Alex Hibbert, the world-record holding polar explorer, has announced his new plans to fund his latest expedition in the extreme High-Arctic and support charity. Fifty companies of any size, or even individuals, can sponsor a sector of the near 500-mile expedition by donating just £2500, £500 of which goes directly to Help for Heroes.
Hibbert said, "We're looking for companies who want to become part of an incredibly exciting project. With mutual values which include strong leadership, teamwork and willingness to step into the unknown, these companies will allow an important part of polar history to be written. The Arctic Ocean in the spring is hyperbole without exaggeration. Temperatures reach below -50 degrees and hazards will include polar bears and regular swims in the ocean to cross open water."
The sponsors, known collectively as Team North 2012, will enable Hibbert and his team-mate to launch their unique world-first expedition in the North Pole region. Shrouded in secrecy due to competition with other polar expedition leaders from around the world, the sponsors will have advance exclusive access to their brand-new route and expedition concept which will be publicly announced later in 2011.
Hibbert explains, "North 2012's unusual plan to achieve funding for our equipment and logistics was born as a reaction to the understandably cautious nature with which post-credit crunch companies treat sponsorship. The aim is to deliver value to smaller companies by providing speaking opportunities, press coverage and other internal and external benefits at a fraction of the cost of even a small print advertising campaign."
In 2008 Hibbert, aged 22, with his team-mate George Bullard, skied 1374 miles (2210km) in 113 days via a new route across the arctic Greenland icecap. They broke the 8-year-old world record for unsupported distance and narrowly escaped starvation and huge crevasses in storm-force winds and temperatures below -35 degrees whilst hauling 200kg sledges.
Superb photographs available on request. Hibbert is also available for interview and further comment on request.
Contact:
Carmen Lester-Williams
carmen (at) alexhibbert (dot) com
+44 (0)7715 103597
###