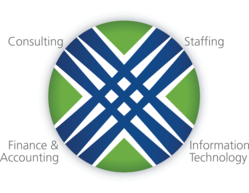 "Receiving this award speaks to the character and commitment of our team to providing the highest level of service to our clients." Wade Hughes, managing partner
Atlanta, GA (PRWEB) July 05, 2011
The Intersect Group, a national finance, accounting and information technology staffing and consulting firm, has been named No. 16 in the Small Category of the 2011 Georgia Fast 40 Middle-Market Companies.
"We are honored to be named a Georgia Fast 40 company. Receiving this award speaks to the character and commitment of our team to providing the highest level of service to our clients. We are a performance-driven organization, but our performance is wholly based around our core values of having impeccable character, building deep relationships, generating trust and being committed to our clients and each other," said The Intersect Group's managing partner, Wade Hughes. "Meeting clients needs with our Flexible Delivery Model is what helps us stand out above the rest."
The Georgia Fast 40 awards are awarded each year on behalf of the Association for Corporate Growth- Atlanta Chapter (ACG) and the Georgia Fast 40 Founder and Diamond Sponsor Cherry, Bekaert and Holland, LLP.
To qualify as a Fast 40 company, a company must be headquartered in the state of Georgia, have net sales between $15 and $500 million and show sustained revenue and employment growth over the past three year. Companies chosen for the Georgia Fast 40 are divided into two categories, small and large mid-market. Winners are objectively ranked based on the highest weighted three-year average growth in revenue and employment with a 75 percent focus on revenue and 25 percent focus toward employee growth.
The Intersect Group will be recognized and honored for this accomplishment at the 2011 Georgia Fast 40 Awards Gala and Dinner on Thursday, June 30.
The Intersect Group congratulates all 2011 Georgia Fast 40 Honorees. A list of the honorees can be found at http://www.cbh.com/georgia40.
About The Intersect Group:
Founded in 2006, The Intersect Group is a different and better business partner. We create unparalleled value for our clients by combining industry-leading consulting capabilities with comprehensive staffing and recruitment services. Clients trust us to deliver results based on our deep expertise and proven resources within finance, accounting, and information technology. Through our flexible delivery approach, you get the right solution, at the right time to accelerate your success and achieve all of your mission-critical objectives.
Since inception, The Intersect Group's revenue has grown 600 percent, posting $3 million in revenue in its first year and a record $27 million in annual revenue at the end of 2010. The Intersect Group is one of the top 500 fastest growing privately held companies in the United States, as determined by Inc. magazine. In addition, Inc. magazine ranked us within the top 100 in the Business Products and Services category. The Intersect Group's 270 employees serve clients nationwide from offices in Atlanta, GA, Chicago, IL, and Dallas, TX.
###