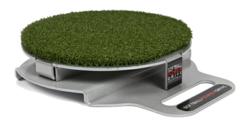 Using nine Softball Power Drives at training stations, allowed teaching with smaller groups
Boston, MA (PRWEB) July 06, 2011
Softball Power Drive today announced the production of additional training videos to help softball players develop more skills on the diamond. "We are proud to team up with Amanda Scarborough, former Texas A&M Pitching Coach, two time All American, professional trainer and ESPN softball analyst to produce additional training for softball players said, John Miller, president, of Pitchers Power Drive (TM).
Amanda has a great knowledge of softball skills and what works in helping develop players to their highest potential, said Miller. She is deeply passionate about softball and loves teaching young players the skills necessary for success on the diamond. This was so evident this past spring when Amanda reached out to us in an email asking how she could help educate softball players on a larger scale to learn and improve their skills. Miller said, "Amanda later advised that she thought her email would drop into a big corporate black hole and she would never hear back." Being a small company of trainers with the same teaching passion to help young players, we wrote back to set up a conference call," Miller added.
Softball Power Drive and Amanda decided to team up at her clinic in June where they could video live training to incorporate into their web sites. At the clinic, Amanda used nine Softball Power Drives as training aids at pitching and hitting stations. From using the Softball Power Drive with individual players through her winter lessons, Amanda wanted to incorporate the same training into a larger setting using multiple Power Drive units. Amanda said "using nine Softball Power Drives at training stations allowed us to teach with smaller groups of players." She added with the multisensory click feedback from the Softball Power Drive the players could hear and feel when they were doing the practice drills correctly thus creating a great learning environment for the players.
Amanda and John captured on video the practice drills and skill training. This video will be added to their web sites to help players learn and improve their performance. Miller said "the power of a web base training site is to allow continuous learning with the capability of adding new drills and workouts at any time. The Softball Power Drive training site was set up for this reason, to enable quarterly training updates by professional trainers and college coaches to our player owners at no cost. Miller concluded "that's what it's about, continuous player skill development with updated training allowing passionate players to learn from professional instructors like Amanda.
The Softball Power Drive was introduced this past December. The Professional / Collegiate Model, is both a pitching and hitting training aid designed to help softball players achieve maximum power and velocity from using their stronger lower body muscles. The auditory click provides instant feedback to let the player know the timing of their power drive. This multisensory learning created by the auditory click and kinetic feel has provided great success with the Pitchers Power Drive for professional, collegiate and youth baseball players. It is being used in hundreds of high schools and baseball academy's, over 200 collegiate programs, twelve professional teams and many pro pitchers. For more information about Softball Power Drive visit http://www.softballpowerdrive.com.
Pitchers Power Drive is based in Holliston, Massachusetts. They are the developer of the US patented Pitchers Power Drive Professional / Collegiate model, the Pitchers Power Drive Youth model, Softball Power Drive and Hitters Power Drive. The design of the Power Drive training aids come from their extensive experience working with and training pitchers and hitters at the Winning Pitchers Academy. Pitchers Power Drive is a trademark of Pitchers Power Drive. To learn more about Pitchers Power Drive visit the Pitchers Power Drive website at http://www.pitcherspowerdrive.com. You can also follow Pitchers Power Drive at http://www.facebook.com/pages/Pitchers-Power-Drive/127620846713 at http://twitter.com/pitching247 at http://www.youtube.com/user/pitcherspowerdrive and at http://pitcherspowerdrive.blogspot.com/.
# # #