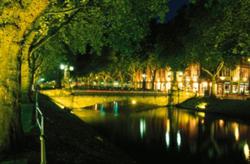 Düsseldorf, Germany (PRWEB) July 08, 2011
Shoppers on and around Königsallee, Düsseldorf's elegant high-end shopping boulevard, can expect a unique shopping experience on September 9, 2011. Many of the area's fashion stores will stay open until midnight as part of "VOGUE Fashion's Night Out 2011" (VFNO). The event is in its third year, and Düsseldorf has joined the list of cities from 17 countries for the first time this year, participating as the second German city after Berlin.
The concept for VFNO is the same across the world. Select department and flagship stores, boutiques and other luxury stores stay open for shoppers until midnight to showcase creativity in fashion and offer limited editions and sales. More than 40 boutiques and department stores have already confirmed their participation and more are expected to join.
Düsseldorf is a natural choice for the VOGUE event. Königsallee is among Europe's major shopping boulevards, featuring the highest concentration of top-name luxury stores of any European city, second only to London's Bond Street. Moreover, it is expected to surpass Bond Street's number of top stores in 2013, when the Königsallee extension, currently under construction, will be finished. Königsallee is already one of the city's main draw for visitors, and fashion and retail are two of the Düsseldorf's main industries. The city is known as a center of fashion design and creativity in Germany.
VFNO opens in different cities at different times: The 2011 series starts in Russia on September 6, followed by Spain on the 7th, and other countries, including the USA, France, and Australia, join on the 8th. Germany holds the event the 9th, while Taiwan and India hold the event on the 10th, followed by China on the 11th, and Greece and Turkey on the15th.
Fore more information on VOGUE Fashion's Night Out, visit http://www.vogue.de/fashionsnightout
For more information on Düsseldorf as a destination, visit http://www.visitduesseldorf.de
For hotel and travel specials, starting at €49 (about US $71) per person per night, including breakfast, visit:
http://www.duesseldorf-tourismus.de/en/duesseldorf-a-la-card/
Düsseldorf Marketing & Tourism GmbH is the visitors and convention bureau of the city of Düsseldorf. Its responsibilities include tourism and city marketing, as well as conference and meeting marketing, hotel reservation services, fairs and convention services, city event ticket sales and advance ticket reservations. For more information, visit http://www.visitduesseldorf.de.
Düsseldorf International Airport, Germany's third largest, offers several non-stop flights from US & Canadian cities (Atlanta, Chicago, Ft. Myers, Los Angeles, Miami, New York, Newark, Toronto, San Francisco, Vancouver), as well as convenient connections to many European cities. For more information about the airport, visit http://www.fly2dus.com.
###