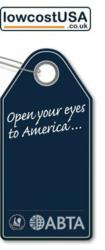 (PRWEB) July 06, 2011
LowcostUSA.co.uk – the UK-based travel agency, have formed a partnership with The Monarch Group to offer direct flights from the UK to Orlando International Airport.
According to Martin Palmer, commercial director at LowcostUSA.co.uk, the decision to establish a working relationship with The Monarch Group was largely based on the needs of the consumer:-
"Holidaymakers love hunting around for the best deals - this is most certainly the case for young families who want to make the trip to Orlando. We decided to introduce Monarch Flights to give these families the choice of using a chartered airline to save money on their travel expenses. For a family of four that's trying to economise, chartered flights could represent a saving of up to £1,000 - in some cases it's the difference between being able to afford the holiday and not going at all."
Whereas scheduled flights work on a per-seat basis, charter airlines allow tour operators to rent an entire aircraft at a reduced rate so savings can be passed on to the consumer. There is a general belief that charter flights are in some way inferior by way of quality to scheduled flights but this is largely untrue.
Mr Palmer explains, "There is no doubt that British families have felt the pinch of the economic crisis and anything that we can do to lower the cost is a massive help."
In a list of top UK outbound destinations, the United States sits 4th with 5% of residents choosing to holiday there, behind Spain, France and the Irish Republic. Orlando, the second most popular destination in the US for British holidaymakers, accounts for roughly 21% of UK visitation and is most popular for families with adults between the age of 35 and 44.
UK visitation to the US suffered a slight decline after an 8 year high of 4.57 million holidaymakers per year in 2008 largely due to the financial crisis. Since then, visitor levels to most destinations have continued to decline, although there are early signs of a recovery:
"This is a tough time for the travel industry – especially for long haul destinations. Over the past few years there has been a noticeable drop in US package bookings across all destinations. We haven't suffered at all from this downturn mainly due to our highly competitive offering and we fully expect the market to fully recover over the next 24 months," explains Martin Palmer.
LowcostUSA as UK-based US travel agent offering a wide range of packages, including Las Vegas holidays, at discounted prices.
###