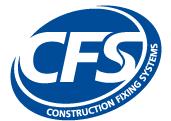 Medmenham, Buckinghamshire (PRWEB UK) 7 July 2011
CFS is internationally recognized as a leader and pioneer providing a comprehensive range of lifting and fixing systems to the construction industry. CFS has recently launched a new website featuring comprehensive information about our products and services. The website provides visitors with specific technical information and product manuals; is designed to educate our clients to better understand our technical products and services. A web portal has been established so that CFS brochures and product manuals may be downloaded.
Features of the new website, http://www.cfsfixings.com include seven main areas to which CFS business is focused:

Lift Product Range
Glass Façade Fixings
Stone Support and Restraint Systems
Precast Concrete Lifting and Fixing Systems
Fischer Product Range
Brickwork Support and Restraint Systems
Bespoke Fabricated Products
In addition to the site's informative content, the design and interface are developed to provide excellent user experience. You can learn more about CFS and the very best construction lifting and fixing solutions; technical support; latest news; see amazing images of recent CFS projects.
About CFS
Construction Fixing Systems Ltd manufactures and supplies the construction industry with a high quality range of innovative and cost-effective products. Founded in 2000 by Tim Chart, CFS has undergone rapid growth in the past decade and now enjoys a formidable reputation within the industry. With a track record of more than ten years within the UK market, CFS has established an enviable reputation for providing a superior level of service and reliability when it comes to fixing, lifting and support solutions. CFS keeps its finger on the pulse of the latest breakthroughs within the construction industry, safeguarding our position at the forefront of innovation with regards to the design, manufacture, finishing and materials used in our fixing, support and lifting systems. We share this knowledge with you, our customers, to provide each project with the very best in robust and practical solutions.
The goal of CFS is simple: provide an enhanced level of service within the existing market, whilst always delivering cost-effective, technically brilliant solutions that resolve any application problem. Making this goal a reality is only possible through the drive, passion and commitment of the whole CFS team, who for over a decade have held the Company's philosophy true: Focusing on Customers - Delivering on Promises - Building the Future
Are you interested in learning more about Construction Fixing Systems Ltd? We invite you to visit our website http://www.cfsfixings.com today. Hope you like it; let us know what you think.
For more information please contact:
Sales Tel: 01491 576466
Fax: 01491 578166
Email: sales(at)cfs-fixings.co(dot)uk
Construction Fixing Systems Limited
Unit 2
Westfield Estate
Henley Road
Medmenham
Bucks SL7 2TA
###