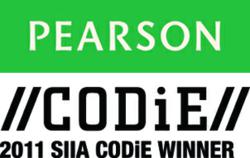 New York, NY (PRWEB) July 05, 2011
Words Their Way™ Online Course from Pearson took top honors in the 2011 Software & Information Industry Association (SIIA) CODiE Awards. The online, interactive professional development tool that provides educators with the practice and guidance needed to successfully teach their students phonics, vocabulary and spelling won the award for Best Professional Development Solution.
Established in 1986, the CODiE Awards honor outstanding achievement across the software, digital information and education technology industries. Nominated products undergo an intensive review by subject matter experts, analysts, journalists and other respected authorities in education technology. This year's 30 education CODiE winners were selected from more than 425 nominations.
"Technology is transforming professional development with interactive, online solutions that assist teachers in their efforts to improve student achievement and success," said Don Kilburn, CEO of Pearson Learning Solutions. "We are honored that Words Their Way Online Course has been recognized by the SIIA for its innovative integration of technology that supports teacher professional development."
Words Their Way Online Course is a "mastery" course with the versatility to be completely self-paced or integrated into in-service sessions for teachers at all grade levels. The course features videos of real-life classrooms that demonstrate this instructional approach, giving teachers the opportunity to see it in action. Teachers are guided through each chapter of Words Their Way™: Word Study for Phonics, Vocabulary, and Spelling Instruction. To watch a video demo about Words Their Way Online Course, click here.
The Words Their Way approach was developed by Pearson authors Donald Bear, Marcia Invernizzi, Shane Templeton and Francine Johnston and teaches word study along a continuum of five stages: emergent, letter name-alphabetic, within word pattern, syllables and affixes, and derivational relations. To ensure a smooth transition from print to online, Words Their Way methodology experts Michelle Picard, David Picard and Kristin Gehsmann provided instructional content and subject matter review.
"We are committed to supporting teachers from preparation in the college classroom to practice in their own classrooms, with professional development that uses technology to meet the unique needs of today's teachers," said Nancy Forsyth, President of Teacher Education and Student Success at Pearson. "This honor from the information and technology industry underscores how online innovations like Words Their Way Online Course are personalizing the ongoing process of learning for teachers in new and exciting ways."
Words Their Way Online Course is one of three Pearson products to earn a prestigious CODiE Award for 2011. Also honored this year were Hospitality & Tourism Interactive, an online experience for exploring careers in the hospitality industry, and MyMathLab Algebra I and II, an online homework and tutorial program.
About Pearson
Pearson, the world's leading learning company, has global reach and market leading businesses in education, business and consumer publishing (NYSE: PSO).
For more information, press only:
Lisa Wolfe, L. Wolfe Communications, 773-227-1049, lwolfe(at)lwolfe(dot)com
###