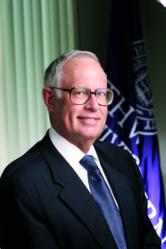 We welcome the insight and knowledge that Dr. Bienen brings to the college to support our future growth as a leader in higher education.
Minneapolis, MN (PRWEB) July 05, 2011
Rasmussen College has named Northwestern University President Emeritus Dr. Henry Bienen Chairman of the Board effective July 1, 2011.
Dr. Bienen, who has served as Vice Chairman of the Rasmussen College Board of Directors for two years, has been a member of the Rasmussen board since 2005. Prior to his role as Vice Chairman, Dr. Bienen was the fifteenth president of Northwestern University, taking office January 1, 1995 and retiring August 31, 2009.
During Dr. Bienen's tenure at Northwestern, applications for admission nearly doubled, and the number of National Merit Scholars increased substantially. There were 249 Merit Scholars in the 2008-2009 freshman class, which was the third highest in the nation. In addition to increasing applications and academic accolades, research funding from outside sources grew from $173 million to close to $500 million. Moreover, Northwestern's endowment more than quadrupled from $1.4 billion in 1995 to more than $5.5 billion in 2009 when Dr. Bienen retired. In addition, Dr. Bienen was one of the first three university presidents awarded the Carnegie Corporation Academic Leadership Award for innovative leadership in higher education. With that honor came a $500,000 award for Northwestern University.
Kristi Waite, President of Rasmussen College, proudly welcomed Dr. Bienen into his new role as Chairman.
"We are honored to have Dr. Bienen, with his extensive experience in higher education, lead the Rasmussen College Board of Directors," Waite said. "Rasmussen College is an innovator of higher education, delivering top quality academics, and we welcome the insight and knowledge that Dr. Bienen brings to the college to support our future growth as a leader in higher education."
Since becoming vice chairman of the Rasmussen College Board of Directors, Dr. Bienen has assisted with several important initiatives, including the evaluations of new campuses by the Higher Learning Commission, the accrediting body overseeing Rasmussen College, and the implementation of a College Experience Course, which gives prospective students a realistic sense of what to expect in college and creates entrance requirements for new students.
"In my role as Chairman, I look forward to continuing the tradition of excellence and integrity that Rasmussen College has carried forth for the past 111 years," Dr. Bienen said. "Our top priority is our students, and I will focus on initiatives such as tracking student success after graduation, improving our measurements of employment and salary, and continuing the mission of developing innovative degree programs that truly meet employer needs. In addition, we will persist in our goal to improve graduation rates and develop programs that support student success."
Robert E. King, Sr., former Chairman of the Board for Rasmussen College, will continue to sit on the board, but will take over as Chairman of the Board for Deltak.
To read this press release in its entirety and others like it, please visit http://www.rasmussen.edu/press-release/2011-07-05/bienen-named-chairman/.
About Rasmussen College:
An innovator of higher education, Rasmussen College is a career-focused, private college that specializes in offering the most in-demand degree programs in a highly supportive, student-centered educational environment. Rasmussen College offers market-relevant programs from the certificate and diploma level through the associate's and bachelor's level online and across its 22 campuses in the Midwest and Florida to more than 15,000 students. By combining its expertise in career development with high academic standards and with unparalleled student support services, graduates of Rasmussen College leave with the most up-to-date knowledge, the skills that employers look for, and the tools to succeed in their chosen field. Since 1900, the primary focus at Rasmussen College has remained constant: student achievement is of the upmost importance, the employer who hires its students continues to be a valued partner, and Rasmussen College is dedicated to being a primary contributor to the growth and development of the communities it serves. For more information about Rasmussen College, visit http://www.Rasmussen.edu.
# # #