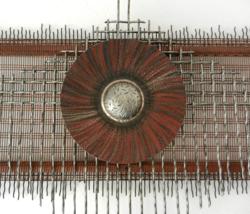 Scottsdale, AZ (PRWEB) July 06, 2011
Jim Dodson, Jr. is a master welder who has taken many awards including the very prestigious "Best Artist in the Show" at the 2008 Calgary Stampede Western Art Show. As a sculptor, he strives to create high quality, unique pieces by incorporating simple, geometric shapes and found objects; both natural and man made. The theme behind his work is "time - where old world meets new world" with a modernistic methodology.
Materials range from various mixed metals, including steel, bronze, copper and titanium. Even fossils, stones and glass are often incorporated to add an interesting element. His work is on display in both private and corporate collections. His public art piece can be seen at the Gene Autry Industrial Airport in Oklahoma where he created a steel entrance. Dodson, Jr. has a studio and will be exhibiting from January through April 1, 2012 at the Arizona Fine Art Expo in Scottsdale, AZ.
Craig Bergsgaard, award-winning master bronze artist has taken numerous awards and has work that can be seen in the Western Art Museum in Carterville, Georgia.
Bergsgaard considers himself to be a self-made storyteller on the subject of our American history. His bronzes capture the spirit embodied in the people who made the rugged Wild West their home and are a monument to the independence inherent in the American psyche. A stickler for historical correctness, Craig believes that an authentic portrayal of the past is the only way to tell his stories. He has researched endless hours about the Old West with enough zeal to rival any historian, and ensures that everything, from guns to clothing, is accurately represented. He outlines the origins and working history of the cowboy and Indian breeds.
CALGARY STAMPEDE FESTIVAL:
The Calgary Stampede Festival offers the popular and famous rodeo, Chuck wagon racing (the "Chucks"), agricultural and stock (animal) shows, and a overabundance of other fun Western-style events plus Canada's premier Western art show, with more than sixty artists specializing in Western art and culture running everyday from July 8th through the 17, 2011. Their studios are located in the Western Oasis- in Halls D and E of the BMO Centre - An event not to miss.
THUNDERBIRD ARTISTS
In the Fall Jim Dodson, Jr. and Craig Bergsgaard will be showing at the Thunderbird Artists festivals. Carefree Fine Art & Wine Festival, Nov. 4, 5 & 6 Talking Stick Fine Art & Wine Festival, Nov. 25, 26 & 27, 2011. For more information visit http://www.ThunderbirdArtists.com.
ARIZONA FINE ART EXPO
For their winter schedule they can be found in their working studios at the Arizona Fine Art EXPO, produced by Thunderbird Artists and held at 26540 N. Scottsdale Road, North Scottsdale, Jan. 19th through April 1st, 2012. For more information visit http://www.ArizonaFineArtEXPO.com.
###