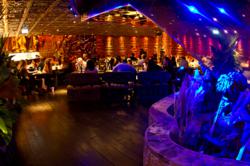 We are very excited to be working with iVoucher and to have the opportunity to reward our loyal customers with attractive deals that will keep them coming back time and time again with their friends and family
(PRWEB UK) 6 July 2011
London A listers such as Liz McClarnon and Amy Winehouse experienced this iconic venue when the doors opened in August 2010 with a special royal blessing from the Zulu King, HRH Goodwill Zwelithini.
A similar rush of excitement can be expected this morning, as the restaurant's loyal customers receive their first great value deal, directly from Shaka Zulu.
"Shaka Zulu is a destination restaurant, we deliver a unique dining experience that can't be found anywhere else," Justin Wallace, operations director, Shaka Zulu.
"We are very excited to be working with iVoucher and to have the opportunity to reward our loyal customers with attractive deals that will keep them coming back time and time again with their friends and family," said Wallace.
The iVoucher campaign, which will be sent out to customers by email at 6am this morning, will offer customers the opportunity to save 50% on £50 worth of food. Dishes on the extensive menu include African specialties such as rooibos smoked salmon, bobotie and traditional melktert.
For venues like Shaka Zulu, with a capacity of up to 1200 diners a day, having the ability to create and send pre-paid campaigns in-house is highly desirable.
iVoucher has made a strong impact on the bar and restaurant market with its launch of a DIY voucher system, that enables restaurants and bar managers to send pre-paid vouchers on their terms.
Restaurants control when the campaign is sent and whom it is sent to. They also own any data captured as a result of a campaign.
iVoucher's pay for success model and low transaction fees attracted Shaka Zulu to explore this method of marketing, along with many other prestigious London establishments.
"We look forward to welcoming back our customers, and delivering the unique dining experience that we are renowned for at an attractive and competitive price," said Wallace.
###