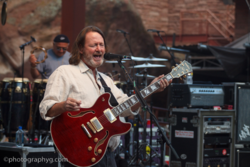 (PRWEB) July 07, 2011
The waiting was finally over. Music lovers rejoiced as Red Rocks Amphitheater began its 100th summer season earlier in May. Widespread Panic, the band that holds the record for sold-out performances at Red Rocks, contributed to the 2011 season with three memorable days on June 24th, 25th, and 26th. The American rock band from Georgia brought along their trusted photographer, Garrett Hacking of Photography G, to capture the weekend festivities at Red Rocks. The three-day event also commemorated Garrett's 15th year of working with the band.
Red Rocks Amphitheater hosted its first musical act 100 years ago with renowned opera star, Mary Garden. After singing Ave Maria, the first song ever to be absorbed by the amphitheater, the chanteuse proclaimed that Red Rocks was one of the most acoustically sound venues she had ever known. After the Beatles performed at the Morrison, Colorado site, they also credited Red Rocks as the finest outdoor concert facility in the world. It would follow that a long list of world famous bands has graced the Red Rocks stage over the last 100 years!
Athens, Georgia based band Widespread Panic, who has long since made Colorado their adopted home, revved up their own summer season as they stormed the Red Rock's stage on June 24-26th. This three-day tour not only observed the band's milestone 25th year of collaboration, but also helped celebrate the 100 years of Red Rocks performance magic.
After three sold-out shows at Red Rocks this past weekend, Widespread Panic's tally of consecutive sell-outs is 38, a record-setting attendance streak at Red Rocks. Denver-based photographer, Garrett Hacking, has been in attendance for the majority of these shows. The Minnesota-born photographer came to work with the band during a fateful meeting with a record label rep in a women's shoe department. Since that chance encounter in 1997, Garrett has seen many photographers come and go from the photo "pit" at Red Rocks. "Longevity in this business is dependant on a multitude of factors. You have to love what you do and who you do it with." Garrett exclaims.
Garrett Hacking started Photography G in Denver, Colorado and is most extensively recognized as a rock and roll photographer. Over the years, Hacking has expanded his repertoire to include nationally recognized commercial, wedding and portrait photography. You can view a wide-range of Garrett's work at http://www.photographyg.com.
If you'd like more information on this topic or to schedule an interview with Garrett Hacking, please call Garrett at 303-444-6994 or email him at info(at)photographyg.com.
###