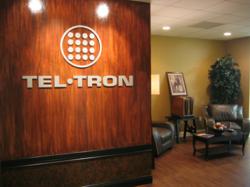 Daytona Beach, FL (PRWEB) July 07, 2011
Tel-Tron Technologies today announced it has moved into new corporate offices at 2570 West International Speedway Boulevard, in the heart of the World Center of Racing - Daytona Beach, Florida. The new space doubles the company's available office area, and is designed to accommodate its fast-growing technical staff, which conducts design, test, support and manufacturing operations for its solutions which help senior living companies run a better business and maximize the lifestyle of their residents.
"Tel-Tron's growth over the past couple of years has been right on plan and we've been able to recruit top talent at all levels," said Brian Dawson, president of Tel-Tron. "The momentum of our solutions for senior living has allowed us to hire to the point that we literally ran out of desks. This new office will allow us to maintain our steady growth and serve our customers even better with dedicated training space, a model senior living apartment and fully integrated video conferencing capabilities. Our architect and designers did a good job, too, of matching the physical space with our company's personality."
The new Corporate Office will house executive, administrative, and sales and marketing staff, while the vacancy created by the corporate staff in Tel-Tron's former corporate location, along with the existing manufacturing facility, will serve as Tel-Tron's Technical Center. The Technical Center will provide the company's engineering, technical support, training, and manufacturing staff with much needed space to support Tel-Tron's steady growth.
Tel-Tron's new Corporate Office address is 2570 West International Speedway Boulevard, Suite 200, Daytona Beach, FL 32114. Tel-Tron's Technical Center address remains 226 Fentress Boulevard, Daytona Beach, FL 32114. Phone and fax numbers are unchanged.
About Tel-Tron Technologies
Tel-Tron Technologies Corporation, a technology leader in the business of aging, helps senior living operators run a better business by improving resident lifestyle, optimizing staff performance, and lowering operating costs. By blending next-generation emergency call system and communications technologies with specialty expertise, Tel-Tron enables senior living companies to achieve the outcomes that are critical to their success, and provide peace of mind for their residents and their residents' families. Tel-Tron's website is http://www.tel-tron.com.
# # #