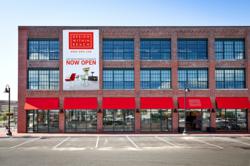 Stamford, CT (PRWEB) July 05, 2011
Design Within Reach, Inc., today announces the opening of its Stamford Studio, located at 711 Canal Street, in the Harbor Point area of Stamford's historic South End. In line with the Company's tradition of preserving and restoring historic buildings for Studio spaces, the new Studio occupies 6500 square feet in Building 35A of the historic Yale & Towne Manufacturing Company complex, which was built in 1913.
Yale & Towne was established in Stamford in 1868 by Linus Yale, Jr., and Henry R. Towne and occupied more than 30 buildings, across 20 acres of land. In its prime, Yale & Towne was the world's foremost manufacturer of locks and hoists. The company remained headquartered in Stamford until the mid-twentieth century. Subsequently, its factories were repurposed by lighting manufacturers and startups and used as housing by artists and musicians.
Founded in 1998, Design Within Reach has evolved from a catalog retailer offering iconic mid-century modern design to a physical and online destination for its proprietary collection of modern furniture and accessories to complement those classics. DWR's VP of Marketing + Creative Michael Sainato and Creative Director Alain Capretz were tasked with translating this concept to the studio experience. In 2010, DWR invited architects and designers to submit proposals that supported the Company's approach toward merchandising. Five architectural firms were considered, and one firm was chosen. The winning design was submitted by New York-based architecture group Sayigh + Duman. Laith Sayigh led the Diller Scofidio + Renfro design team charged with creating the Lincoln Center Pedestrian Bridge at 65th Street in Manhattan and was a designer with Foster and Partners in London for four years. Koray Duman is a LEED-certified architect in the State of New York. He has a master's degree from the Department of Architecture and Urban Design at UCLA and was the lead architect in charge of the Santa Barbara Museum of Art.
"The architects approached the project with a bold concept that preserves the tension between the industrial history of the building and residential settings to give context to our furniture," explains Mr. Capretz. They focused on presenting customers with 20 stylistically defined room vignettes outlining décor solutions for living, dining, work and sleep. "To show four vignettes that make up the basis of most homes, we decided to design a series of low movable platforms in linear sequence to stage the home's aesthetic concepts," say Mr. Sayigh and Mr. Duman.
At the Studio center stands the Design Bar, a 32-foot-long interactive space where sales associates can work with consumers and interior designers on projects of all sizes. To demonstrate customization options and design possibilities, the Design Bar is accented by a floating Light Cloud composed of both new and iconic lighting pendants and a color spectrum of more than 500 wall-mounted upholstery tiles from Maharam, Knoll®, Herman Miller®, Edelman Leather® and Spinneybeck®. Additionally, clients may design interior and exterior spaces using DWR's 3D Room Planner powered by mydeco.com. DWR Stamford Studio also features multiple chair walls, a lighting gallery and a dedicated space to display functional and decorative modern accessories, as well as a comprehensive selection of task chairs and commercial-appropriate furniture. Studio Proprietor Troyce Smith has relocated from the Company's Princeton Studio to manage the new space alongside her staff, many of whom are veterans from other DWR locations.
The Company's corporate headquarters, which opened in May 2011, are located above the Studio and occupy one-and-half floors of the former Yale & Towne factory building, for a total of 27,000 square feet. Mr. Sainato and Mr. Capretz designed the open plan layout, contracting design firm MKDA to execute their plan. Features include Antenna workspaces by Knoll, lighting by Artemide, and Alcove Highback Sofas by Vitra. On the completion of the Company's transition to the East Coast, DWR President and CEO John Edelman affirms: "We're so proud to be part of the redeveloping South End. We believe in this new vision of Stamford and embrace Connecticut as our new home."
Design Within Reach, Inc., founded in 1998 and headquartered in Stamford, Connecticut, is the source for the best in modern design. The company markets and sells its furniture and accessories to both residential and contract customers through its retail Studios in the United States and Canada, dwr.com and its Connecticut-based phone sales team at 1.800.944.2233.
For additional images and information contact Sarah Gould at pr(at)dwr(dot)com.
# # #