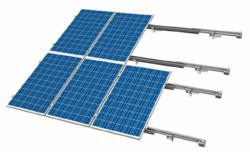 "The advanced and comprehensive software design tool and the inherent benefits of a low parts count enable cost and time savings across the customer's business enterprise, not just on the roof at the jobsite." - Donald Chung, Director, Marketing and Prod
Denver, CO (PRWEB) July 06, 2011
With more sloped-roof installations world-wide than any other mounting system, Conergy's SunTop mounting system is now even more advanced. Conergy has leveraged its eighteen-years of mounting system product design, manufacturing and nearly 14 years of installation experience, including 1 GW of mounting systems installed in 27 countries, to develop the SunTop IV, an advanced pitched-roof mounting system. From SunTop IV's product development stage, Conergy focused on improving efficiency throughout the entire value chain. The SunTop IV system includes key upgrades that simplify inventory management, shipping, design planning and installation. Competitively priced, the SunTop IV reduces and eliminates hidden costs throughout the entire solar energy value chain.
Version IV of the SunTop mounting system offers several key product line upgrades. Conergy has expanded the number of available rail profiles: with light-weight; mid light weight; "all purpose;" and maximum strength rails, SunTop IV economically meets any design requirement. In addition, SunTop IV is now offered with tilt units for mounting on low-angle or flat roofs.
SunTop IV is also now offered with the Conergy QuickConfigurator, a comprehensive software planning tool that allows users to evaluate and optimize various combinations of array layouts, anchor points and rail profiles while ensuring full code compliance. With customizable building layout, roof construction, and environmental load data, the QuickConfigurator provides simple and fast planning. Conergy's QuickConfigurator software will produce designs compliant with the International Building Code, the California Building Code, the Ontario (Canada) Building Code and the Canadian Building Code, and will provide stamped engineering certification letters and construction drawings to expedite permitting and installation.
"We're very excited to bring this next evolution of our Conergy SunTop product line to market. With the new rail sizes and tilt units, we're confident that Conergy SunTop can cost-effectively serve nearly any rooftop PV mounting application. Further, the advanced and comprehensive software design tool and the inherent benefits of a low parts count enable cost and time savings across the customer's business enterprise, not just on the roof at the jobsite," said Donald Chung, Conergy's North America's Director, Marketing and Product Management.
The SunTop IV employs several unique features that simplify and speed the installation process. The Quickstone, also known as "the intelligent nut" speeds installation by simplifying component assembly and requires only a single tool for complete array installation. The splice is a high-strength rail connection that maintains full-structural strength across the splice and, like all the other Quickstone-equipped components, is supplied fully pre-assembled. The SunTop IV's telescoping end-pieces achieve millimeter rail length precision without any cutting or drilling. These technology advances and features shorten the installation learning curve and make it easy to standardize on one system for all types of installations. In addition, with all Quickstone components being fully pre-assembled, the complexities of inventory, shipping and installation are dramatically reduced.
The SunTop IV is manufactured at Conergy's new manufacturing facility in Sacramento, California. Conergy's state-of-the-art computer-controlled manufacturing processes along with stringent quality controls insure precision tolerances for reliable assembly and long-term durability. Conergy's careful attention to production management assures minimum lead times and reliable delivery to Conergy's partners.
CLICK HERE TO WATCH A VIDEO ABOUT SUNTOP IV MOUNTING SYSTEMS
About Conergy
Around the world, only Conergy delivers solar energy systems from a single source. As a system manufacturer, Conergy produces all components for a solar installation and offers all services under one roof. With its modules, inverters and mounting systems, the solar expert creates Conergy System Technology, which is efficient and synchronized solar energy systems for private or commercial rooftops, as well as for multi-Megawatt Parks.
Conergy System Sales brings Conergy premium products to nearly 40 countries. The solar expert supports homeowners, installers, wholesalers and investors in their efforts to "go solar" through deep-rooted local operations in 40 countries. With sales activities on five continents, Conergy has close relationships with all its customers. Listed on the Frankfurt stock exchange, Conergy employs more than 1,700 people worldwide. Since Conergy's founding in 1998, it has produced and sold more than 1.5 GW of clean solar power.
Conergy's Solar Large Projects Group delivers a "Worry-Free Package" for Conergy solar installations. Conergy's experts manage the planning and financing, project installation and implementation, system monitoring, operation and on-going maintenance for turn-key solar projects to achieve maximum performance.
Through its acquisition of well-established local companies, Conergy began operating as a distributor and project developer in North America in 2005 and currently has five offices, four warehouses and three production sites in the region. Conergy manufacturers mounting systems in Sacramento, CA. In Ontario, Canada Conergy produces modules and mounting systems that meet local content requirements for the Provincial FIT. Conergy offers innovative products and tailored services to their North America network of system integrators and project developers.Through these activities, Conergy maintains expert knowledge about local market conditions and requirements.
Please contact us if you have any questions or requests.
###