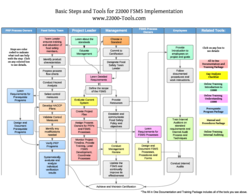 A great overview of the steps and responsibilities for implementation of a Food Safety Management System.
Minneapolis, MN (PRWEB) July 07, 2011
As many companies around the world are considering the benefits of Food Safety Management System Certification, they are looking for guidance on what they must do to meet the requirements of the Certification Standards. 22000-Tools.com has outlined the steps and responsibilities for an implementation project in this free Flow Chart. The flow chart, which may be downloaded at http://www.22000-tools.com/22000-flow-chart.html, lays out the steps, the flow and the responsibilities for each step of an implementation project.
In addition, each step has recommended tools that can help the implementation team complete the step efficiently and effectively. The team at 22000-Tools.com is available to help your company choose a package that will assist with the implementation project.
# # #