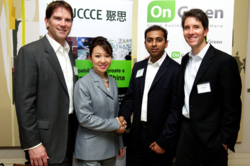 This partnership is exactly what is needed to funnel venture capital dollars and corporate strategic investments to early stage startup alternative energy companies
Los Angeles, CA (PRWEB) July 06, 2011
OnGreen, the global marketplace for cleantech investment, announced today it has formalized a research grant to the University of Michigan Erb Institute for Global Sustainable Enterprise in collaboration with with the Joint U.S.-China Collaboration on Clean Energy (JUCCCE). The OnGreen project will entail collaborating with Chinese companies to invest in U.S. university R&D and patents in exchange for which the Chinese companies would acquire joint rights to the associated intellectual property.
With China's clean energy investment surge of over $54 billion in 2010 investments, the collaboration makes sense. The Chinese companies and JUCCCE will utilize the OnGreen platform to source US patents that meet their future cleantech investment needs. Following the discovery process, interested parties will engage with US patent owners and university tech transfer offices to address any regulatory issues.
Concurrently, an Erb Institute research team of graduate students will analyze a broad range of IP sharing models and meet with a diverse group of stakeholders to identify the strengths and weaknesses of each model along with opportunities to develop innovative business models and collaboration platforms. Tom Lyon, Director, Erb Institute for Global Sustainable Enterprise, weighs in saying, "University research often takes many years to come to market, if it gets there at all. But when we confront the urgent need to make markets and enterprises more sustainable – especially in China – we can't afford to leave ideas on the shelf. We're excited to help shorten the time from lab to market with this innovative model and dynamic partnership."
Cleantech investors from both China and the U.S. are also being recruited for the research project to provide feedback on marketability and commercialization prospects of selected technologies. Advisors for the project include directors from the U.S. Departments of Energy and Departments of Justice.
According to JUCCCE's Co-Founder Peggy Liu is confident in China's executive capability to go green as fast as they are building saying, "This joint research project will not only bring positive trade flow into the US from China and create jobs, but also potentially help the U.S. bypass historic patent infringement issues in China."
OnGreen CEO Nikhil R. Jain believes in the synergy of the project saying, "This partnership is exactly what is needed to funnel venture capital dollars and corporate strategic investments to early stage startup alternative energy companies and entrepreneurial inventors based both here in the US and abroad."
The JUCCCE - UM joint project is a timely announcement as OnGreen is heading to Shanghai and the Jiangsu province in China next month for the China Capital Roadshow. Thirty of the most promising cleantech companies from the U.S. will meet with high net worth Chinese investors from the public and private sectors in a four day roadshow.
About OnGreen
OnGreen is the world's largest cleantech marketplace. Members from across the globe work together, connecting the best ideas in cleantech to funding and expertise, translating IP into ROI. With thousands of entrepreneurs, investors, and business and technology experts spanning 35 countries, it's never been easier to connect with the people and resources needed to turn today's energy and environmental challenges into business opportunities. OnGreen is headquartered in Los Angeles with offices in Shanghai. Connect with the world's leading cleantech investors at http://www.ongreen.com.
About JUCCCE
Joint US-China Collaboration on Clean Energy (JUCCCE) is a non-profit organization that brings together international expertise and technologies to accelerate the use of clean and efficient energy in China. JUCCCE aims to create visible change within 10 years.
About University of Michigan Erb Institute for Global Sustainable Enterprise
Created in 1996, the Erb Institute for Global Sustainable Enterprise fosters professional education, public outreach and scientific scholarship supportive of the transition to sustainability – that is, meeting the fundamental needs of a growing human population in an equitable manner within the means of nature.
OnGreen Media Contact:
Chathri Munasinghe
chathri(at)ongreen(dot)com
(800) 297-0445 x 207
Twitter: @OnGreenInc
Facebook: OnGreen.inc
University of Michigan Media Contact:
Tom Lyon
Director, Erb Institute for Global Sustainable Enterprise
tplyon(at)umich(dot)edu
JUCCCE Media Contact:
Peggy Lieu
Co-Founder, JUCCCE
peggyliu(at)juccce(dot)com
###