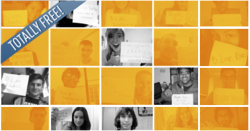 "Unlike a classroom, no one will get left behind on topics they don't understand or unnecessarily stay on a skill already mastered."
San Diego, CA (PRWEB) July 06, 2011
After creating course material guaranteed to improve SAT scores, B Line Test Prep is now offering its eLearning services for free to all students. The free SAT prep course is part of B Line Test Prep's initiative to give back to the community, specifically to ensure everyone, no matter their socioeconomic background, has access to an SAT prep course.
"Even without a recession, lower and middle-class families worry about how they are going to pay for college-related expenses," said Bryce Young, Vice President of Sales and Marketing. "We are a business that prides itself on community involvement; helping high school students get into college seems like the best place to start."
B Line Test Prep not only is offering its SAT prep course for free, but through its unique online program, ensures everyone has a chance to learn the material at his or her own pace.
"The course is conducive to any schedule and by utilizing the growth of technology, students can study at anytime from any place," said Allison Young, Vice President of Operations. "Unlike a classroom, no one will get left behind on topics they don't understand or unnecessarily stay on a skill already mastered."
Through B Line Test Prep's online SAT course students are responsible for keeping up with their own studying, and to help, there is a tracking feature to chart growth and improvement. The online class also has eight full-length practice tests, more than 1,200 vocabulary words and review sections with animated feedback after each question.
To register for free online SAT prep, please visit: http://www.blinetestprep.com/sat
###