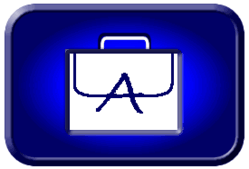 Attaché offers business professionals a mobile platform for presentations, media, and applcation distribution.
Irvine, CA (PRWEB) July 12, 2011
OpenPath Systems announced today the release of Attaché, a breakthrough enterprise application for the iPad that synchronizes content and provides version control for users. Attaché gives business leaders tools to keep their employees out in the field up-to-date with the latest data and collateral. "Businesses have recognized the value of the iPad for those employees who are outside the office. Attaché offers business professionals an enterprise class mobile platform for presentations, media, and application distribution," says OpenPath, principal and co-founder, Dan Bowers.
Attaché for iPad App Provides Access to Documents and Media
The iPad application allows users to access stored documents and media. The document synch feature automatically updates iPad library when the user navigates to a section of the app that has new files available. The "Work Offline" function allows users to work while not connected to the Internet. Full zoom and file viewing is available whether on or off line. Editable documents can be opened and updated in third party editing apps such as Docs to Go, Go Reader, or Pages. Unlike other, similar apps, Attaché is a central platform that delivers document control, acts as a presentation platform for media, and distributes important data without sacrificing security or control.
Mobile Content and User Management
Attaché Content Manager is a web-deployed portal that gives administrators control over navigation, user access and permissions, and "push notifications." Built-in hierarchal access allows administrators to grant sales and marketing managers access based on their respective roles, so they can assist with content control, and send notifications without impacting higher functions or navigation, thereby making content management a distributable task. Compared to other, similar apps, OpenPath's open architecture approach means that actual business applications can be embedded to run within Attaché.
About OpenPath Systems
OpenPath Systems is a full-service software development company that helps clients achieve business results through a variety of software solutions. We've been creating software solutions for over a decade and are committed to staying on the cutting edge of technology. Beyond our technological expertise, we understand that our clients are our most important asset, and we strive to maintain excellent relationships with all of our clients. We have a diverse and prominent portfolio of clients from non-profit, medium-sized to multi-billion dollar organizations.
OpenPath Systems continually pushes the boundaries of software capabilities. For more information go to http://www.openpathsystems.com
Contact:
Dan Bowers
OpenPath Systems
dbowers(at)openpathsystems(dot)com
(800)496-0093
###