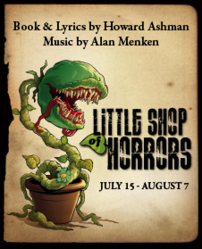 "Leaves the audience... ravenous for more."
—New York Times

"This horticultural horror will have you screaming with laughter."
—New York Post
Annapolis, MD (PRWEB) July 06, 2011
Infinity Theatre Company continues to present the longest-running hits in New York City theatre history. "Little Shop of Horrors", written by the team behind Disney's "The Little Mermaid", "Aladdin", and "Beauty and the Beast", is a blend of Broadway musical magic and edgy satire, spoofing 1950's sci-fi movies. Songs from the rock score include "Downtown," "Grow for Me," "Somewhere That's Green," and "Suddenly Seymour."
Two star-crossed, down-and-out Skid Row lovers, Seymour and Audrey, try to make sense of a trashy world of greedy florists, sadistic dentists, sassy street urchins, and Audrey II, a man-eating potted plant from outer space that promises Seymour fame and fortune—in exchange for fresh blood.
Based on the 1960 low-budget cult movie by Roger Corman with Jack Nicholson, "Little Shop Of Horrors" opened at the Orpheum Theatre Off-Broadway in New York City, playing over 2,000 performances and becoming the highest-grossing and third longest-running musical in Off-Broadway history. The show received the New York Drama Critics Circle Award for Best Musical. The 1986 film version directed by Frank Oz featured an all-star cast, including Rick Moranis, Vincent Gardenia, Steve Martin, Ellen Greene, and cameo appearances by James Belushi, John Candy, Christopher Guest and Bill Murray.
The New York Times reviewed, "Leaves the audience... ravenous for more."
The New York Post reviewed, "This horticultural horror will have you screaming with laughter."
Infinity Theatre Company brings a professional New York City cast to Annapolis for "Little Shop": Stacie Bono, Ira Denmark, John Ettinger, Topher Nuccio, Ariana Scoggins, Ardale Shepherd, Martina Sykes, Lamont Whitaker, and Eric William Whitehead.
Tina Marie Casamento, who directed Infinity's 2010 production of "The Fantasticks" and is originally from Springfield, VA, directs the show. The show is musical directed by Denise Puricelli, who also conducted and played piano for "Little Shop of Horrors" during its Broadway run, and teaches at Catholic University. Choreography is by Erin Denman, who is Assistant Choreographer for the Broadway-bound new musical Yank! "Little Shop of Horrors" will have a five-piece live rock band: Mary Sugar, Stephen Palko, Gary Tillman, Jay Kawarsky, and Clayton Colwell.
Lighting Design is by Anshu Bhatia and the Associate Lighting Designer is James E. Lawlor III. Costume Design is by Adrianne Carney. Props and fabrication are by Kristin Gdula. Set design is by Caite Hevner. Sound Design is by Wes Shippee. Casting is by Michael Cassara, CSA.
Part of every ticket sale will be donated back to the non-profit Children's Theatre of Annapolis.
The 2011 Infinity season is dedicated to the memory of Robert "Chief" Kauffman.
Infinity Theatre Company is partnering with local Annapolis favorite Broadneck Grill to provide a free lunch/dinner and show package.
"Little Shop of Horrors" contains some comedic violence and mild adult language. Parental guidance suggested for children under age 10.
Little Shop of Horrors runs from July 16—August 7 on:

Thursdays at 8:00 (No performance on July 14)
Fridays at 8:00 (Preview performance on July 15)
Saturdays at 2:00 and 8:00
Sundays at 2:00
Infinity Theatre Company at the Children's Theatre of Annapolis
Bay Head Park
1661 Bay Head Rd.
Annapolis, MD 21409
# # #