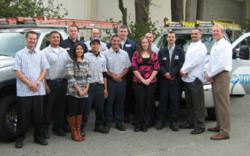 Our foundation is built on delighting Customers. If you do that right everything else will fall into place
Carrollton, TX (PRWEB) July 07, 2011
Vortex is pleased with the rapid growth of their Carrollton Service Center and is encouraged by the warm welcome from their new Customers. In April 2011, during an uncertain economy, Vortex made the bold decision to expand into the DFW Metroplex. They have received a warm welcome from local businesses eagerly seeking a new, innovative door and dock service company to meet their needs. They look forward to potential expansion plans throughout Texas.
Since 1937 Vortex Doors has saturated the West with their high quality door repair and loading dock services. With traditional Customer Service, fast response time, highly trained Technicians, and no automated phone systems, Vortex has raised the bar for the industry. "It is nice to know a live person will answer the phone and I can talk to someone immediately" expressed one Facility Manager at the Facilities Summit Conference recently held in Dallas.
"We must make a great first impression" expressed Donnie Prewitt, Team Leader, to his team. The Service Center in Carrollton currently operates 4 Service Trucks and employs 11 people including Technicians, Sales Reps, and the Customer Service team to insure that when calls came in they were ready to provide instantaneous service. "Texas is a big place, and we knew we had to come in strong and stand out from the competition" stated Brian Bailey, Vice President of Vortex
Major retail chains currently using Vortex in 7 other states were quick to make Vortex their primary door and gate vendor. The quick response time, high level Customer Service and competitive rates Vortex is known for made for an easy decision to expand Vortex into their Dallas market for door repair services.
All technicians are required to go through a 5 day training course at the exclusive Vortex Training Center in Costa Mesa, CA. Technicians learn high quality and efficient ways to repair various overhead doors, dock levelers, entrance doors, and related door hardware. A full day is dedicated to safety practices, lock out/tag out procedures, and welding safely. Each day consists of hands on experience, classroom lectures, and a written test to insure all information is absorbed. This training gives Vortex and their customers the confidence to know they are receiving a well-trained technician who can work on various types of doors quickly and safely utilizing exceptional and traditional Customer Service skills.
"We encourage Customers and vendors to visit our Training Center" says Tim O'Shea who is the Training Director at the facility. He went on to explain that as long as you provide high value, great service, and communicate with the Customer your sales and profit will continue to grow.
About Vortex Doors
Vortex is a family owned business, passed through generations since 1937. "Our foundation is built on delighting Customers. If you do that right everything else will fall into place" states Mike Kattan, President of Vortex.
You can reach Vortex at (214) 459-6042 or visit their website at http://www.vortexdoors.com
###