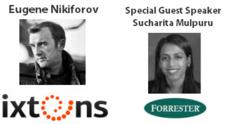 "Retailers that compete with Amazon have come to discover that offering marketplaces on their own sites is critical to driving margins and remaining competitive on the prices and the shipping fees of the items they do stock in inventory."
New York, NY (PRWEB) July 07, 2011
Ixtens, a leader in eCommerce Software-as-a-Service connectivity and automation solutions, will host an interactive webinar for eCommerce leaders, titled "The Changing Dynamics of Retail – Multi-Supplier Marketplaces."
The webinar will feature a presentation from special guest speaker, Forrester Research analyst Sucharita Mulpuru and will include additional findings from her January 2011 report, "Five Retail eCommerce Trends to Watch in 2011." In her report, Sucharita showed us that one of the most significant facts regarding eCommerce is how Amazon is growing faster than the rest of the eCommerce industry – in particular with its drop-ship model where Amazon makes sales without holding inventory or managing shipments.
Webinar attendees will hear a discussion covering the following timely trends:

The Amazon marketplace model
What is an online marketplace
The challenges and complexities of establishing a multi-supplier marketplace, complete with business case studies
Marketplaces for Retailers vs.Media Companies
Difference between the affiliate and drop-shipper model
All attendees will also receive a complimentary copy of Forrester's "Five eCommerce Trends to Watch in 2011" report
Who:
Sucharita Mulpuru, Vice President, Principal Analyst, Forrester Research, Inc.
Eugene Nikiforov, Co-Founder and CPO, Ixtens
When:
Tuesday, July 12th at 1:00pm EDT / 10:00am PDT
Where:
Live webinar delivered via your computer
How:
Webinar Registration Site
For any inquiries on the webinar or if you'd like information prior to the webinar, please contact Paul Kogan at p(dot)kogan(at)ixtens(dot)com or 646.588.4920.
About Ixtens:
Founded in 2004, Ixtens helps merchants, media companies, and suppliers work in multichannel e-commerce. Current clients include: Lifetime Brands and Amazon. The Ixtens team is a group of e-commerce veterans that build the integration engine for Amazon Webstore. The company is based in New York. To learn more or to schedule a meeting, please e-mail info(at)ixtens(dot)com.
Contacts:
Rachel Sigley, PR
Rachel Sigley, 646.588.4918
r(dot)sigley(at)ixtens(dot)com
###