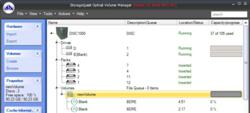 Customers no longer need to be tortured with outdated interfaces built on discontinued software development languages and environments
Ottawa, Canada (PRWEB) July 06, 2011
StorageQuest is pleased to announce public availability for the StorageQuest Optical Volume Manager (OVM). The OVM is the first and only optical library management application written for modern operating systems and third party applications.
This new software product provides powerful volume management tools which support a wide array of enterprise Library systems.
The OVM includes features in the standard offering that are traditionally charged extra. Folder Spanning, Drive Letter Access, System Tray Notifications, Advanced Unified Search, Read & Write cache, Data Replication and a script based API are included in the base version. This full featured software application is priced based on the size of the optical library and ranges from approximately $2,225 to $12,000.
The Optical Volume Manager is a new software application developed using cutting edge modern programming technologies and methodologies. This provides for a solid, and flexible optical library management application that is not available from any other optical library management software company. "We feel we have a significant edge over our competitors with this newly developed modern interface and architecture", Said Brendan Lelieveld-Amiro, Director Product Development. "Customers no longer need to be tortured with outdated interfaces built on discontinued software development languages and environments. The new OVM interfaces provides a very familiar and intuitive interface for management optical media groups and near-line archive/backup data " .
As with all StorageQuest products, discs are written using industry standard UDF file system, so your important discs can be read in virtually any computer without the need for any add-on software.
About StorageQuest
Since its inception in 1998, StorageQuest has pioneered software technology, product and open solutions that continue to drive the evolution of optical storage. StorageQuest storage solutions include network attached appliances, storage management software backup/archive applications and services providing seamless storage management for open network environments. StorageQuest, Inc. is headquartered in Ottawa, Ontario, Canada. http://www.StorageQuest.com or Info(at)StorageQuest(dot)com.
###