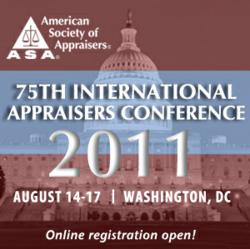 Reston, VA (PRWEB) July 07, 2011
Industry experts, renowned in valuations ranging from a painting to aircraft, will join hundreds of appraisal professionals of all disciplines August 14-17 at the American Society of Appraisers' (ASA) 2011 International Appraisers Conference at the J.W. Marriot in Washington, D.C.
Over 5 countries will be represented at ASA's 75th anniversary conference, featuring industry leading speakers and presenters and dynamic sessions representing all appraisal disciplines: Gems & Jewelry, Personal Property, Real Property, Business Valuation, Machinery & Technical Specialties, and Appraisal Review & Management.
A few highlights of this year's conference include:

Multidiscipline general session with keynote speaker Stephen S. Fuller, Ph.D., Dwight Scholar, Faculty Chair and University Professor, George Mason University.
Enhanced Networking Opportunities
Sessions highlighting current trends, such as cyber solutions, EBay and the issues affecting consumers buying online, green building fundamentals, and the challenges ahead for renewable energy
This year's 75th anniversary conference will be held at the JW Marriott in Washington, D.C. Aug. 14-17, 2011. For more information or to register for ASA's 2011 International Appraisers Conference, please visit us at http://www.appraisers.org/Meetings/2011Conference.aspx.
About ASA
The American Society of Appraisers is an international organization of appraisal professionals and others dedicated to the education, development and growth of the appraisal profession. ASA is the oldest and only major organization representing ALL disciplines of appraisal specialists, originating in 1936 and incorporating in 1952. ASA's headquarters is in the metropolitan Washington, D.C. area. To find an accredited appraiser near you, visit http://www.appraisers.org or call (800) 272-8258.
###