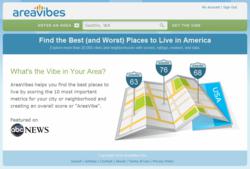 (PRWEB) July 12, 2011
Need to know the crime index for New York City? How about the male/female ratio in Washington, DC? Now, AreaVibes offers a new way to view detailed demographic data for more than 20,000 cities and neighborhoods nationwide.
AreaVibes will give users a clear overview of a city or neighborhood, and is essential for people who are traveling, moving or just looking for information about a particular place. The site has a clean layout and a simple search feature, ensuring that users will get the facts they want without being overwhelmed by statistics. Simply enter in the desired location; each neighborhood and city has an overall "liveability" score that's calculated out of 100, so it's easy to understand. The score is a reliable indicator of the quality of life in that area, as it factors in criteria such as cost of living, employment, housing and weather.
"The score allows people to quickly identify great places to live and places they might want to avoid," said Jon Russo, the site's co-founder.
The site collects additional city data as well, including crime, education, public transportation and household income. Neighborhoods and cities can be compared side-by-side to their state and to the country. Users can post questions to the forum or write a review, and there will soon be a section detailing businesses and other attractions in the area. There's even a library of travel tips, relocation advice and other news.
Russo said the site's goal was to help people make informed decisions about the best places to live.
"AreaVibes helps bridge the gap that exists between people looking to relocate or travel to a city they have never visited," he said.
Please visit http://www.areavibes.com to start searching.
Media Contact:
Jon Russo
416-698-7991
jon(at)areavibes(dot)com
###