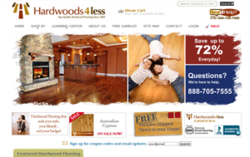 By the time we found Scott, we were extremely frustrated and skeptical about the whole process, but finally this company was up to the task.
Dallas, TX (PRWEB) July 06, 2011
Shawn Prendergast of US Joomla Pros (USJoomlaPros.com) announces the successful launch of the custom bulk shipping FreightQuote.com component for Hardwoods4less.com. The component allows the user to integrate the FreightQuote.com bulk shipping API interface with the Virtuemart shopping cart system for Joomla. This is one in the long line of custom, 3rd party integrated components that have been developed by Shawn Prendergast and his team of Joomla developers.
In addition to the FreightQuote.com component, US Joomla Pros also integrated a flooring sq/ft calculator that allowed the user to input the floor dimensions to get an accurate sq/ft total, while adding in a customizable % for waste. This calculator was tied into the Virtuemart shopping cart system and FreightQuote.com component to seamlessly display all of the necessary values to the user.
Clayont Peebles, owner of Hardwoods4less.com, said, "We needed some custom code written for a problematic shopping cart issue, as well as for a 3rd party API integration.
"Before finding US Joolma Pros, we tried several other resources, including some top- rated free lance sites. After spending a lot of money and losing precious time, we obtained no useful results.
"We even found a U.S. company that 'said' they could do the project, yet again, we were disappointed when they did not deliver as promised.
"By the time we found Scott, we were extremely frustrated and skeptical about the whole process, but finally this company was up to the task.
"New to this type of project, I did not understand that the last 20% of the project is the most important: The 'clean up' and final corrections to make it all work properly. Scott stayed with us though out the entire process."
Shawn Prendergast added, "Installing and setting up basic Joomla sites is our bread and butter, but these are the projects that get us really excited. Integrating with a 3rd party custom API for the first time gives you a lot of satisfaction."
Peebles added, "Thank you Scott (Prendergast)! We will have more work for you!"
About US Joomla Pros
USJoomlaPros (USJoomlaPros.com) is a subsidiary company of The Website Design Exchange, based out of Dallas, TX, operated by Scott Prendergast and Shawn Prendergast. US Joomla Pros is a high end web development company that specializes in the Joomla CMS as well as creating custom Joomla development, Joomla components, Joomla modules, and Joomla plugins.
About Hardwoods4less:
Hardwoods4less™has been an LLC since 2003 and specializes in direct partnerships with family-owned hardwood mills to eliminate the distributor and retailer price mark-ups and offer nationwide delivery of pre-finished hardwood flooring. Hardwoods4Less offers offer the highest quality wood flooring at the lowest cost because all hardwood floors are shipped directly from the mill and finishing plants to your door. Wood flooring from Hardwoods4Less is warrantied for 25 years (unless otherwise noted). Free hardwood samples are available for Oak, Maple, Cherry, Walnut, exotic species (e.g. Australian Cypress, Brazilian Maple, etc.), hand-scraped, and many other wood species and finishes at a reasonable quantity per customer (Hardwoods4Less reserves the right to limit free hardwood floor samples). All hardwood flooring images on this site are the sole property of Hardwoods4Less. Hardwoods4Less provides technical and accurate information related to wood floor installation, terminology (grade, hardness, etc.), repairing, cleaning, and much more directly on from the website. Hardwoods4Less is an active member of the National Wood Flooring Association (NWFA) and is proud of an A+ rating from the Better Business Bureau.
To contact US Joomla Pros (http://www.USJoomlaPros.com):
Scott Prendergast
scottpjr(at)gmail(dot)com
972-859-0369
Shawn Prendergast
shawn(at)usjoomlapros(dot)com
214-274-9840
###