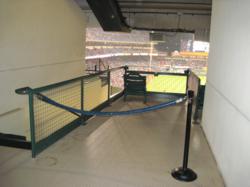 "Justice is served. The certification of the class is an important first step toward achieving equal access to Angel Baseball Stadium for people who use wheelchairs."
V. James DeSimone, attorney for Mr. Charlebois and the class of wheelchair users.
Los Angeles/Anaheim, CA (PRWEB) July 06, 2011
Wheelchair users are likely to have an easier time purchasing tickets to and attending games at Angels Baseball games after a recent Federal Court ruling granting class certification to improve wheelchair accessibility to games.
The Plaintiff in the lawsuit, J. Paul Charlebois, a baseball fan who is confined to a wheelchair, alleges that Angel Stadium fails to provide basic accommodations to disabled persons in its premier Club Level, the only section that includes amenities such as in-seat waiter and waitress food and beverage services. Remarkably, in the Club Level consisting of thousands of seats and luxury boxes, there are only two wheelchair accessible seats on the entire level.
The lawsuit entitled, Charlebois v. Angel Baseball et al. Case No. SACV 10-0853 DOC (ANx) alleges that in July 2009, when Mr. Charlebois attempted to access his seat in the Club Level section, he was informed that there were no available wheelchair accessible seats in the entire section, as the only two seats were already taken. Despite his experience, Mr. Charlebois is seeking injunctive relief only and no personal damages.
Indeed, after investigating and speaking with numerous users of wheelchairs who purchased tickets to Angel Baseball games, Mr. Charlebois' lawyers, stated in a supplemental filing in support of the Motion for Class Certification in Case No. SACV 10-0853 DOC (ANx) :
"Based on the first-hand experience of wheelchair users, it appears that the wheelchair accessible seating on the Club Level of Angel Stadium, which is the only level providing waiter and waitress services, is completely unavailable to wheelchair users who wish to attend Angels baseball games."
The United District Court responding to Angels Baseball's argument that the proposed class action required an analysis of each class member's individual circumstances and state of mind, concluded, in its opinion granting Class Certification in Case No. SACV 10-0853 DOC (ANx) "This argument, pardon the pun, strikes out." [A full copy of the opinion is available upon request].
The Court, in its written opinion granting class certification, found that the Plaintiff met the requirement of showing that there were a sufficient number of wheelchair users attending games at Angel Stadium to justify the certification of the class of wheel-chair users emphasizing, "Baseball is often referenced as America's favorite past-time, and given that Plaintiff's class includes future attendees, it is reasonable to presume that many wheelchair-using baseball fans will emerge as future class members ..."
V. James DeSimone of Schonbrun DeSimone Seplow Harris Hoffman & Harrison, LLP, the attorneys representing Mr. Charlebois and the class stated: "Justice is served. The certification of the class is an important first step toward achieving equal access to Angel Baseball Stadium for people who use wheelchairs."
###