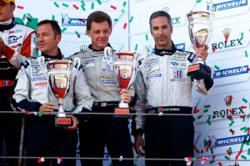 "The victory was ours up until the late race drama. We had a 15-second lead with 25 minutes remaining, but that's racing." — Scott Tucker
(PRWEB) July 05, 2011
It proved to be a bitter-sweet day for Level 5 Motorsports, as a late-race mechanical issue dashed hopes of a historic victory in Sunday's Six Hours of Imola, the fourth round of the Intercontinental Le Mans Cup.
Level 5's Microsoft Office 2010-sponsored Lola-Honda Spyder, piloted by Scott Tucker, Christophe Bouchut and Joao Barbosa, put in an impressive performance, moving from sixth on the grid to the lead of the highly competitive LMP2 class with under two hours to go.
Portuguese ace Barbosa handed the car over to Bouchut to complete the final stint with just over one hour left in the race. What looked to be a sure-fire win for Tucker and company turned into heartbreak with 25 minutes to go when Bouchut reported gear selection problems.
Diagnosed as a gear actuator malfunction, which initially kept the car stuck in fourth gear, the veteran Frenchman managed to miraculously limp the Lola-Honda Spyder to the checkered flag using only three gears. Yet, Bouchut and the David Stone-led team's efforts were rewarded with a third-place finish.
"The victory was ours up until the late race drama," Tucker said. "We had a 15-second lead with 25 minutes remaining, but that's racing. But, still ending up on the podium with this level of competition is incredible. Unfortunately, it isn't sinking in right now because we were so close to a win here."
Nonetheless, the result gave Level 5 back-to-back podium finishes after their stunning debut in last month's 24 Hours of Le Mans. Having switched from Lola's 2010-specification Coupe to the new cost-capped Spyder for this weekend's ILMC race, the team saw a considerable performance increase that nearly gave them their third victory of the year.
"It was a strange race because for sure the result was disappointing because we had the pace to win," Bouchut said. "Unfortunately, something broke in the final 25 minutes. I was locked in fourth gear at the time, but later realized I was able to use second and third gears as well by using the clutch.
"In the end, I had some pressure from the car behind, but also had to let the other cars overtake me because I was so slow on the track," he added. "It was hard to drive like that, but we managed to hold onto third place."
Barbosa, who was looking to notch his first victory with the Wisconsin-based team, was no doubt disappointed with the result but encouraged with the progress made over the course of the weekend.
From starting with a car that was nearly three seconds per lap off the pace in practice to qualifying mid-pack in sixth and to nearly pulling off the win showed the strength in the team's revised Lola-Honda Spyder package.
"It was the first time we drove the Lola-Honda Spyder and it definitely proved to be the right choice," Barbosa said. "We were much more competitive than in the previous races. We still have to work on speed and qualifying pace, but we were strong heading into the race. That took us to the lead. There's a few more races to go, so hopefully we can continue to improve this package and aim for a win at Silverstone."
"Had we not had the race mathematically won, we would have been extremely thrilled to have been on the podium today," said team manager David Stone. "It was a fight all day for everybody. A lot of the top teams had issues and it was back and forth. Today just wasn't our day to be on the top step. But, we'll come back. We got a lot of encouraging performance out of this weekend."
Next up on Level 5's Intercontinental Le Mans Cup program is the Six Hours of Silverstone on Sept. 9-11, where Tucker, Bouchut and Barbosa will continue their chase for the coveted global sports car championship.
###