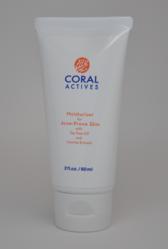 This formulation was developed for people who want to use a daily moisturizer and want to continue treating their acne. Ermis Labs
Atlanta, GA (PRWEB) July 07, 2011
CoralActives is elated to announce its newest offering in the fight to control acne; a moisturizer specifically formulated for acne-prone skin. It is a blend of skin drenching moisturizers with natural ingredients that bring antibacterial and antioxidant benefits.
In the fight to treat acne Ermis Labs noticed there was a void in the market; there was not a specific moisturizer formulation that was designed to address the needs of acne sufferers.
This formulation was developed for people who want to use a daily moisturizer and want to continue treating their acne. The natural ingredients found in this moisturizer will work to fight the bacteria that cause acne while keeping your skin healthy.
Key ingredients include Licorice Extract, which helps to block androgen activity of the sebaceous gland's production of sebum. It also inhibits lipase enzyme activity produced by bacteria on the skin's surface and in pores thereby decreasing inflammation. In addition to the Licorice Extract is Tea Tree Oil. This oil has been shown to have natural antifungal and antibacterial effects. They also added copaiba oil which has been documented with antibacterial activity.
Other natural extracts include Carapa Guaianensis Seed Oil. This oil extract naturally contains limmonoids, which have been proven to help renew the skin and reduce inflammation. Euterpe Oleracea oil, from the Acai berry, offers antioxidant benefits. Olea Europaea (Olive) Leaf Extract, provides both antioxidant and antibacterial benefits.
The formualtion also adds natural exfoliators like Algae Extract. Algae extract is known for its non-irritating and non-comedogenic moisturization qualities. Algae Extract contains active substances used to normalize the skin's moisture content and provide suppleness to the epidermis. Yeast Extract was added as a source of B vitamins to help condition the skin.
About CoralActives
CoralActives is a very effective two-step, once-a-day acne treatment formulated with powerful ingredients. The products are well tolerated due to the use of a renewable, natural anti-inflammatory called Sea Whip Extract. The CoralActives Retinol Exfoliating Cleanser is a low-foaming formula developed with sensitive skin in mind. It combines a very unique encapsulated retinol delivery system with very fine microbeads and Sea Whip Coral. This triple-action creates the perfect exfoliating environment to prepare the skin to receive the Penetrating Acne Serum Gel. The addition of Sea Whip Coral in the cleanser also helps keep your skin calm and balanced. The CoralActives Penetrating Acne Serum Gel goes on light and dries quickly. The use of 6% benzoyl peroxide and Sea Whip Coral provides a dual-action effect. The benzoyl peroxide goes to work killing the bacteria that cause acne while the Sea Whip Coral goes to work on reducing the redness and irritation of acne.
About Ermis Labs
Ermis Labs is a skin care company committed to formulating safe and exceptionally effective products. Their focus on high-quality ingredients partnered with professional counsel from dermatologists, plastic surgeons and pharmacists has resulted in skin care products with the effectiveness of prescription products but the value and convenience of over-the-counter products.
For more information about CoralActives by Ermis Labs please visit http://www.coralactives.com.
###