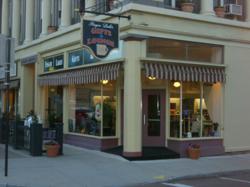 Everyone will be comfortable at the Finger Lakes Gifts & Lounge
Geneva, NY (PRWEB) July 12, 2011
A retro gift store and lounge is now open in the Finger Lakes. Finger Lakes Gifts and Lounge is a unique gift shop dedicated to highlighting the best of what the area has to offer. Work of local artists, along with locally made gourmet food, coffee and wine are all featured in the downtown Geneva, New York location.
The store's motto is "Come in and be comfortable". There's truly something for everyone at FLG & L. "We wanted to provide an attractive destination to enjoy local goods, as well as a place to lounge" says store manager Holly Wilcox. A variety of local wines and Upstate beers are available. Light snacks include regional cheeses and Purity ice cream. Whether it be local artisan made gifts or specialty sweets from Geneva's new chocolatier, Whisper Chocolate, "It's definitely something you don't see every day," says owner David Linger.
The historic storefront, formerly Guards Cards, still has glimpses of its past uses as an apothecary, florist and gift store over the years. Some will remember the store when Walgreen's had a soda fountain on premises. Geneva BID Executive Director John Hicks recalls meeting his future wife for a soft drink at the counter. Many of the store's original features, including an art deco ceiling and mosaic tile floor, remain. At the new hand crafted bar, customers can choose from an extensive list of Finger Lakes wines, Upstate beers or Keuka Lakes Roasters coffees.
For shopping, there is an array of local artists to choose from, including glass blowers, wood makers, jewelers, and many other Finger Lakes gifts for the home. Some featured artists include Patience Brewster, Fred Brockway and Kayc Cass-Northrop. There are also wonderful upscale souvenirs for tourists who may drop in. Having the Smith Opera House just up the street and wine trails just around the bend, Finger Lakes Gifts and Lounge is certain to be a destination location for locals, tourists and college students alike. Locals can enjoy sipping wines and coffee, snacking on light food, and take advantage of comfy nooks, retro lounge chairs and available WiFi.
"Come in for a coffee, browse for a gift. Shop for a card, stay for a glass of wine. Everyone will be comfortable at the Finger Lakes Gifts & Lounge," says owner David Linger.
###