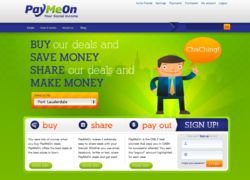 "we expect that members will be anxious to invite as many of their contacts as possible so that they may be anchored to them before they become anchored to other members." - Blake R. Ruderman
Fort Lauderdale, FL (PRWEB) July 06, 2011
HLM PayMeOn, Inc., a subsidiary of MMAX Media, Inc. (otcbb and otcqb: MMAX) and the Company that allows its members to create social income™ by referring deals, today announced the creation of its "PayMeOn anchor payment system". Members can now invite their friends, family and associates to join PayMeOn using the Company's new invitation system. Once a person joins PayMeOn from a member invitation, they are permanently "anchored" to the member that invited them. From then on, anytime the invited member makes a purchase of any deal, the member to whom they're anchored earns a percentage of the payout assigned to the deal.
According to Blake R. Ruderman, co-founder and VP of Marketing, "our members are very happy to earn the payout amounts associated with deals every time somebody they share a deal with purchases. However, they also want to be paid when that person makes a purchase directly from PayMeOn in the future. We agree with that philosophy, so we created the anchor payment system.
Becoming "anchored" is simple. Members simply visit http://www.paymeon.com, login and then follow the "invite friends" tab and use the invitation system to invite new members. The invitation system allows members to invite people "one at a time" or "all at once" by inviting their entire "contacts database".
Ruderman continued, "we expect that members will be anxious to invite as many of their contacts as possible so that they may be anchored to them before they become anchored to other members."
Forward-Looking Statements
The statements in this press release that relate to the Company's future expectations are "forward-looking statements" within the meaning of the Private Securities Litigation Reform Act of 1995. These statements are subject to risks and uncertainties. Words such as "expects," "intends," "plans," "may," "could," "should," "anticipates," "likely," "believes" and words of similar import also identify forward-looking statements. Forward-looking statements are based on current facts and analyses and other information that are based on forecasts of future results, estimates of amounts not yet determined and assumptions of management. Readers are urged not to place undue reliance on the forward-looking statements, which speak only as of the date of this release since they involve known and unknown risks, uncertainties and other factors which are, in some cases, beyond our control and which could, and likely will, materially affect actual results, levels of activity, performance or achievements. The Company may rely on third party sources for any statistics that might be referenced in this press release. We have not verified such statistics and assume no responsibility for their accuracy. We assume no obligation to publicly update or revise any forward-looking statements in order to reflect any event or circumstance that may arise after the date of this release, even if new information becomes available in the future. Additional information on risks and other factors that may affect the business and financial results of MMAX Media, Inc. can be found in the filings of MMAX Media, Inc. with the U.S. Securities and Exchange Commission.
###