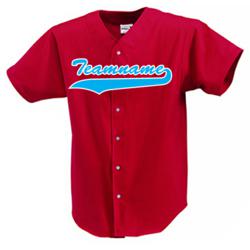 It's half the price and a third of the time compared to our competition - Mike, VP of Public Relations
Wichita, KS (PRWEB) July 07, 2011
Epic Sports offers a new way to make full button-down baseball jerseys look like the major leagues. Now, customers can enjoy professional-looking, personalized tackle twill embroidery on the fronts of full button-down, split front baseball or softball jerseys.
One of America's leading online sporting goods companies, Epic Sports already offers many affordable baseball jersey decorating packages and ways customers can personalize their own uniforms using the company's legendary, easy, online customization tools. This new embroidery feature allows tackle twill to be added to the front, back, and sleeves of their full button-down jerseys for a look long used by the pros.
Tackle twill is a technique used by most professional teams to create classic, attractive, long-lasting uniform customization features. Numbers, letters, and shapes are cut from polyester or nylon fabrics and attached to clothing and banners, and finished with attractive zigzag stitch embroidery around the edges, according to the website.
For customers that need their baseball jerseys now, Epic Sports offers prompt services and delivery at competitive prices. "It's half the price and a third of the time compared to our competition," says Mike, VP of Public Relations.
According to the site, a unique feature of Epic is its easy, do-it-yourself online uniform customization software that anyone can use at home. Epic's user-friendly technology allows customers to design their signature look right at their desktop. For added convenience the company offers six package deals to suit a team's style and budget, beginning with a basic professional heat-press block style number applied to the back. Customers can step it up to packages offering a variety of colors, designs, and fonts to the backs and fronts, and finished with classic professional-looking tackle twill.
Epic Sports is a leading online sporting goods retailer, specializing in supplying "the best sports equipment at the best price" to individuals, teams, coaches, clubs, leagues and schools across America. Epic brings ten years of experience in soccer retail, and eight years of online services, to deliver a complete package covering 90 percent of customer demand, and with a 98-99 percent satisfaction rate. And with its efficient shipping policies, Epic provides products and services sporting goods customers simply cannot get anywhere else.
###