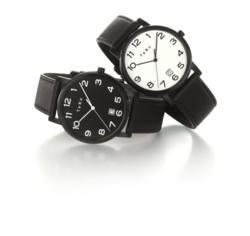 a symbiosis of fine hand work, vision and precision.
Las Vegas, NV (PRWEB) July 06, 2011
TeNo Stainless Steel, makers of fine and unique jewelry, watches and accessories, introduces the TeNo10 wrist watch collection for both men and women. These distinctive timepieces are available in ten different dial colors and can be purchased on the TeNo website or at select fine retail stores.
The TeNo10 collection offers the consumer a quality timepiece like no other. According to Heinz Schwarz, GmbH, TeNo watches are "a symbiosis of fine hand work, vision and precision." Choose between the classic steel or the chic black PVD cases. Available with Arabic numerals or markers, TeNo10 boasts ten dial colors– black, white, yellow, orange, lime, purple, and grey. New to the repertoire this summer are red, blue and caramel dials.
All the TeNo10 watches have a 39mm diameter case and are 8mm thick. Each has a date feature, Swiss Quartz movement, scratch-resistant Sapphire crystal, is water-resistant to 99 ft. and carries a two-year international warranty. All the TeNo10 watches also have a smooth black leather strap with stitching to match the dial color. "No where can you find such an unrivaled design in watches," says TeNo U.S. Distributor, Raphael Cohen. He continues, "There is no other watch company in the world that can design a watch for both men and women in the business world with color. It's beautiful! Anyone can wear it– for any occasion."
All TeNo products are designed and manufactured in Pforzheim, Germany and distributed throughout the world. Universal Watch Co., Inc., the United States Distributor for TeNo Stainless Steel, offers the TeNo10 watches for $375 with free ground shipping at http://www.teno.com and at select retailers across the country. Visit the website for more information or to purchase.
About TeNo Stainless Steel
TeNo products are crafted by prestigious German jewelry and watch manufacturer, Heinz Schwarz, GmbH, and distributed throughout the world. TeNo uses new and progressive materials in their creations. TeNo mixes rubber and ceramics with diamonds, sapphires, gold, pearls, wood and steel to design a unique concept for a modern lifestyle, expressing elements of both tradition and innovation. TeNo jewelry and watches are made from the finest stainless steel that is free of nickel. With this successful concept, Tenology is sweeping the nation.
Media Contact:
Nadine Kluger
800-360-2586
nadine(at)teno.com
http://www.teno.com
###