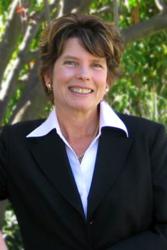 Los Angeles, CA (PRWEB) July 06, 2011
Dr. Gary L. Mangiofico, Associate Dean of Fully Employed MBA and Executive Programs at Pepperdine University's Graziadio School of Business and Management, announced that Terri Egan, Ph.D., Associate Professor of Applied Behavioral Science, has been named director of the Master of Science in Organization Development (M.S.O.D.) program. The graduate executive degree program prepares leaders in the art and science of managing strategic change through experience-driven field research, international professional engagement, and applied learning coursework.
As director of the M.S.O.D. program, Dr. Egan will be responsible for leading program operations, ensuring the quality of the student experience, recruiting high-caliber student candidates, and implementing the program's strategic positioning and marketing strategy.
"I've known Terri for seven years. She has an extraordinary relationship with students and an exceptional ability to teach self-awareness in a way that empowers our graduates as leaders and change agents," praised Dean Mangiofico. "Terri has a tremendous heart and a passion for others, as well as a love of organizational development as a means to increasing human capacity for a sustainable future."
Dr. Egan has led the M.S.O.D. program committee for the last two years and served as a core faculty member in the program since 2001.
She teaches courses on the topics of leadership, team effectiveness, managerial decision-making, critical thinking, business ethics, appreciative inquiry, and organizational change and development. She is a resident of San Clemente, Calif., and teaches at Pepperdine University's Irvine Graduate Campus.
A nationally recognized management scholar and speaker, Dr. Egan has worked with a variety of public and private sector organizations, including the LAPD, Air Products, 3-M, The Boeing Company, R-Ranch in the Sequoias, PBQA, Infonet, Wescom Credit Union, Universal Studios, and Caesar's World.
Her award winning research has been published in a number of academic journals including Administrative Science Quarterly, Organization Science, Journal of Public Administration, The Information Society, Human Relations, Organization Development Journal, and The Appreciative Inquiry Practioner.
Dr. Egan's current teaching, research and practice focus on integrating neuroscience discoveries into organization and leadership development programs. As the co-founder of Lahl and Egan, LLC (http://www.lahlandegan.com) she partnered with Suzanne Lahl, MSOD, to develop the Lahl and Egan Whole Person Leader model which addresses the intellectual, intuitive, emotional, physical and spiritual aspects of increasing human and organizational capacity. They are currently conducting research with a group of 28 senior leaders from a cross-section of organizations to understand how the mind and brain interact to support enhanced performance and well-being.
Dr. Egan also is co-founder of Saddle Sojourns, (http://www.saddlesojourns.com) a full service organizational development and change management consultancy. In 2002, Dr. Egan partnered with the Center for Leadership Studies, one the world's largest providers of leadership development programs, to integrate Saddle Sojourns programs with the Situational Leadership© model.
Dr. Egan earned her B.A., M.B.A. and Ph.D. from the University of California at Irvine.
About the Master of Science in Organization Development Program
The M.S.O.D. program integrates strategic leadership, change management, and personal and professional growth to create values-oriented change practitioners who address the critical competitive issues facing organizations and their members.
As a result of the renowned program, more than 800 MSOD alumni distinguish themselves around the world by influencing values-based choices in organizations and by their contributions to the field. Founded in 1975, M.S.O.D. pioneered Organization Development education for executives and remains one of few such programs in the country, consistently ranking among the top 20 leadership programs nationally. Learn more: http://bschool.pepperdine.edu/programs/msod/heritage/
About Pepperdine University's Graziadio School of Business and Management
Founded on the core values of integrity, stewardship, courage, and compassion, Pepperdine University's Graziadio (GRAT-ZEE-ah-DEE-oh) School of Business and Management has been developing values-centered leaders and advancing responsible business practice since 1969. Student-focused, experience-driven, and globally-oriented, the Graziadio School offers fully accredited MBA, Masters of Science, and bachelor's completion business programs. More information found at http://bschool.pepperdine.edu/newsroom/.
# # #