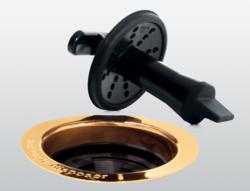 Elk Grove Village, IL (PRWEB) July 06, 2011
New Garbage Disposal Safety Accessory Helps Promote Safety in the Most Accident-Likely Room of the House.
Accidents can happen in an instant. And according to statistics, the majority of accidents in the home happen in the kitchen. Putting extra efforts into keeping the kitchen - the heart of the family home - safe will give parents a peace of mind. While a fire extinguisher, first aid kit and smoke detector are the more obvious kitchen-safety must-haves, another dangerous yet not-so-obvious kitchen accessory is a garbage disposal guard, especially when children are around.
After spending a lot of time in the kitchen teaching neighborhood children how to cook, DISPOSE-IT-GUARD® designer T.J. Dombrowski noticed the children watching his every move – including reaching into the sink to push cut vegetables into the disposal. "I was helping them peel all the veggies into the sink, which had a disposal. I turned on the faucet and the disposal, and used my fingers to push the peelings into the disposal. I looked up and the children were watching what I was doing. It frightened me! Their hands were small enough to go all the way into the disposal!" This became a major concern for Dombrowski and he knew he had to do something about it. "There weren't the right garbage disposal safety accessories out there. I made it my goal to prevent childhood injuries due to garbage disposals. Every day that went by without a proper drain cover was another day that something terrible could happen."
Fortunately, Dombrowski saw his inspiration through, and now parents can have a little peace of mind while spending time with their children in the kitchen. DISPOSE-IT-GUARD by Disposal Guard Inc. is a heavy duty stopper/strainer that is used in place of a garbage disposal stopper. But it's more than just a stopper – DISPOSE-IT-GUARD is a stopper, strainer, safety poker and scraper all in one! A simple twist of the uniquely designed T-handle opens or closes the strainer, while the plunger is designed to avoid all contact with the garbage disposal blades even while it's running.
DISPOSE-IT-GUARD is 100% made in America and after two years of product testing, Disposal Guard Inc. and T.J. Dombrowski himself proudly and confidently stand behind their quality product. DISPOSE-IT-GUARD is available to purchase on DisposalGuard.com, Amazon.com and select home and hardware stores nationwide.
A demonstration of DISPOSE-IT-GUARD is also available to view on YouTube MSRP $16.95
About Disposal Guard Inc:
Safety & Convenience Made Simple®. Disposal Guard Inc. is based in Elk Grove Village, IL. The DISPOSE-IT-GUARD all-in-one sink stopper, strainer, safety poker and the scraper is 100% manufactured in the US. For more information please visit http://www.DisposalGuard.com.
###