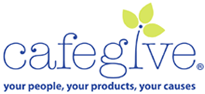 "Imagine the amount of grassroots giving that would be generated if every shopper used CafeGive for just one online purchase a month."
Portland, OR (PRWEB) July 06, 2011
CafeGive® brings consumers, retailers and nonprofits together to help each reach their philanthropic goals by enabling consumers to direct giving every time they shop online. CafeGive relies on the affiliate compensation fees as well as some direct relationships with online stores to support giving activities. Every time a consumer makes a purchase through the CafeGive website, a percentage of the affiliate compensation is given to a 501(c)3 nonprofit organization that the shopper selected.
Shoppers are not required to register to use CafeGive.com to shop and give, but if they do, they can see the amount their shopping activities generate for their charity. A recent Nielson survey predicts that online shopping purchases of packaged consumer goods, such as baby diapers and processed food, will grow to more than double its current market size, reaching levels of $25 billion by 2014. "Just imagine the amount of grassroots giving that would be generated if every shopper used CafeGive for just one purchase," commented CafeGive CEO, Sandra Morris. "CafeGive.com combines philanthropy and online shopping, and is our first of several socially responsible applications that are aimed at making giving a part of everyday business, including online transactions."
CafeGive has 350+ retailers on the site, covering everything from fashion to decorating and office products and computers to food, flowers and wine. Retailers and brands already working with CafeGive include Macys, Dell, Priceline, Travelocity, Home Depot, Wine.com, 1-800-Flowers, Sephora, Eddie Bauer, Hanna Andersson, Tiny Prints and Toms just to name a few.
Causes that have already recognized the CafeGive's grassroots fund-raising potential include Alzheimer's Association, Beat Sarcoma, KBOO Community Radio, Mercy Corps, SOLV, The Nature Conservancy, Sankara Eye Foundation, Africa Bridge, Frankie's Friends, Brian Grant Foundation, Chess-in-the-Schools, Raphael House of San Francisco, Friends of the Children, Habitat for Humanity Silicon Valley, National Autism Association and over 100 others. Cafegive provides links to information and websites of participating causes and nonprofit organization to help shoppers make an informed choice.
The CafeGive website is the company's first social responsibility-related online application and combines philanthropy and online shopping. "Developing solutions that make it simple to be more socially responsibility is our core mission, and we feel strongly that most consumers are looking for ways they can give back more to their communities," continued Morris. "We launched CafeGive to enable consumers to take their community support to the next level. Many people find it satisfying, practical and even fun to shop online. Now people who shop online can benefit the causes they care about at no extra cost."
About CafeGive
CafeGive is a unique online marketplace that lets consumers shop for a cause. Cafegive.com is a free service connecting online shoppers to hundreds of brand-name online retailers and local and national nonprofit organizations to earn for their causes. In addition, CafeGive provides social networking tools to allow nonprofits and consumer to create specific fundraising goals and extend their reach to family and friends. The CafeGive website is the company's first social responsibility related application combining philanthropy and online shopping. CafeGive was founded by a trio of technology and marketing executives and headquartered in Portland, Oregon. For more information visit http://www.cafegive.com
###