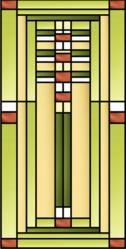 I simply concentrated on going above and beyond surpassing my current client's expectations in the states that I guess I didn't realize my hard work is paying off.
Abrams, WI (PRWEB) July 06, 2011
Decorative Films by Maryanne has been busy this year. Not only has Mary Anne announced Decorative Films' return to the web after a brief hiatus, Mary Anne also came charging back with an awe inspiring stained glass pattern gallery dedicated to the hardworking firemen. Now, half a year later, Decorative Films by Maryanne is pleased to make public their news of going international.
Decorative Films by Maryanne has been diligently working on bringing a creative stained glass window film look to American consumers at a substantially cheaper cost by using decorative window films. Mary Anne has perfected the art of recreating the expressive and warm look of real stained glass on many different types of window films. This look quickly caught on and until recently, Mary Anne had only clients in the United States.
"I am quite pleased to get decorative window film orders from almost every state. Some orders lead me to a town or city I am not familiar with, and it was awesome to see that they heard of me. Whether it was searching for decorative window films online and finding my website or word of mouth, the orders kept coming in and my list of satisfied clients is continuously growing," says Mary Anne.
Decorative Windows Films by Maryanne received a request a couple of months ago for a unique design on a frosted clear, privacy window cling. This was nothing new for Mary Anne but the inquiry came from England. And then another came from France. Decorative Films by Maryanne completed those windows films with the same care and timely fashion as all the other ones. It only took those two decorative window film demands from outside the United States to give Mary Anne pause. Since the decision was made to go international, more orders from around the world have been coming in.
About the initial idea of going international with her creations, "At first I didn't think too much into going international. I simply concentrated on going above and beyond surpassing my current client's expectations in the states that I guess I didn't realize my hard work is paying off. It was a pleasant surprise for me when the order came in from England…and then France. Now I have already completed a few window designs for a client in Thailand and I'm in the beginning stages of design for businesses in Kuwait and Nigeria. I'm excited to see where an order will come from next."
About Decorative Window Films:
Mary Anne first started in the decorative window film business back in 2002 with another company. Since then she has branched out on her own and opened Decorative Window Films with continued enthusiasm for creating beautiful artwork. Mary Anne has eleven types of windows films to offer for beauty and privacy all expertly printed to your size, shape and colors. All of the films vary in longevity, indoor/outdoor use, amount of UV window film protection, amount of privacy, eco-friendly adhesive or even non-adhesive; each film is made with certain characteristics to match individual needs and wants. Although each of the window film materials is made differently, all of them are able to be easily removed without leaving sticky residue. To view all the designs and past projects Decorative Films by Maryanne has completed visit her gallery of custom window films.
###