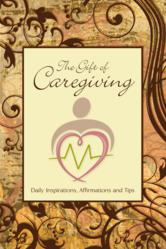 Caregivers owe it to themselves to recognize and care for their own needs, in addition to those of the
care-receiver.
Ann Arbor, MI (PRWEB) July 11, 2011
Rebecca Colmer, author of the Senior's Guide Series and founder of Me & My Caregivers, Inc., has released a new book, published by Eklektika Press, featuring daily inspirations, affirmations and tips for America's 44 million caregivers.
With The Gift of Caregiving, author and eldercare advocate, Rebecca Colmer, hopes to offer a ray of sunshine to all those familiar with caregiving. Colmer's daily sensitive messages offer inspiration and information to set the tone for a calm and more fulfilling caregiving day. Caregivers need all of the extra help and support they can get. This essential guide helps caregivers reduce stress, maintain a good attitude, improve communications, and keep their lives on track while caring for others.
"The caregiver job is complex and differs for everyone depending on the needs of the care-receiver," said Colmer. "Even though it can be rewarding, it can also be extremely stressful. I have found that words can inspire, motivate, and even change us if we let them."
The Gift of Caregiving is the perfect gift book for caregivers, no matter where they are in the process of caregiving, just starting out or in the middle of it. It is also a great promotional tool for healthcare providers and their patients. Bulk purchase pricing is available. The Gift of Caregiving may be purchased from Amazon and major booksellers. For more information, contact Rebecca Colmer at 800-530-9129.
About Rebecca Colmer:
Rebecca Colmer is the author of the popular Senior's Guide Series with more than 750,000 books sold. In addition, she has written the Family Caregiver Organizer and Caring for the Caregiver booklet.She is the founder of Me & My Caregivers, Inc., an online personal health organizer, communications hub, and care coordinator for caregivers.
Rebecca is an eldercare advocate and experienced caregiver.
http://www.MeAndMyCaregivers.com
###