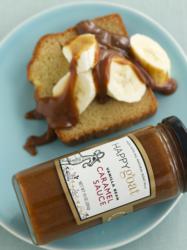 "We're thrilled to have our Vanilla Bean Caramel Sauce recognized as an Outstanding New Product for everyone to enjoy – especially during National Ice Cream Month," said HappyGoat Founder Michael Winnike.
San Francisco, CA (PRWEB) July 06, 2011
July is National Ice Cream Month and this year there's a delicious new way to celebrate with award-winning HappyGoat Vanilla Bean Caramel Sauce. Made with real Madagascar bourbon vanilla bean and naturally sweet, easy-to-digest Grade 'A' quality goat milk, HappyGoat Vanilla Bean Caramel Sauce has been named one of the top 10 Outstanding New Products of the Year by the National Association of Specialty Food Retailers from a record number of 464 entries in this highly competitive category. HappyGoat received a 2011 sofiTM Silver Award and is in the running for the sofi Gold Awards to be presented by Celebrity Chef Cat Cora on July 11 during the 57th Annual Summer Fancy Food Show in Washington, D.C.
Selected by a panel of specialty food experts from Whole Foods, Straub's, Taste Unlimited, Giant Eagle and Good Morning America, HappyGoat Vanilla Bean Caramel Sauce pairs perfectly with ice cream, grilled fruit and fine cheese and is a scrumptious complement for desserts, baked goods and gourmet treats.
"Our Vanilla Bean Caramel Sauce is the first in our new line of caramel sauces and we're thrilled to have it recognized as an Outstanding New Product for everyone to enjoy – especially during National Ice Cream Month," said HappyGoat Founder Michael Winnike.
The company will be sampling its entire product line in Fancy Food Show Booth #5065, including its new HappyGoat Scotch Caramel Sauce, which combines single malt scotch from award-winning distiller Aberlour with HappyGoat's sofi-winning Vanilla Bean Caramel Sauce. Aberlour's esteemed Speyside single malt is matured 12 years in a combination of bourbon and sherry casks adding a rich combination of dried fruit and oaky spice, making it a treat for fine food and scotch enthusiasts alike.
HappyGoat's gourmet line of handmade caramels includes: original Vanilla Bean; Chocolate + Sea Salt: 100 percent dark chocolate combined with goat milk caramel and a touch of sea salt in an indulgent brownie-like treat; Coconut + Lime: toasted coconut punctuated by sunny lime for a lively tropical flavor; and Winter Spice: a unique blend of aromatic winter spices featuring delicate Ceylon cinnamon, all spice, nutmeg, ginger and clove.
About HappyGoat – happygoatcaramel.com
HappyGoat was founded in 2009 with the goal of creating the world's best caramel using the highest quality, all natural ingredients to deliver "udderly" irresistible flavors that are better for you and our planet. It all starts with Grade "A" Kosher certified goat milk and goat butter from independent farms where the goats are given room to play free-range, grow up healthy on a natural diet and are never treated with growth hormones or antibiotics. Made by hand in small batches using traditional copper pots, HappyGoat caramels and sauces are creamy and rich with a perfect balance of sweet and savory. Look for HappyGoat nationwide at Williams-Sonoma stores, in select Whole Foods regions, at specialty stores across the U.S. and online at happygoatcaramel.com/products.html.
###