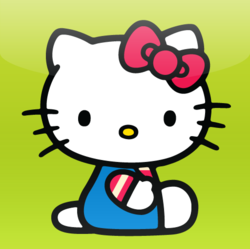 Hello Kitty Checkers Is An Adorable Twist On A Classic Game. - Emily Becker, AppAdvise.com
Austin, TX (PRWEB) July 06, 2011
Hello Kitty® & Sanrio® Friends Checkers is available now in the iTunes App Store:
$2.99 for iPad - http://bit.ly/mJRHO5
$0.99 for iPhone - http://bit.ly/iIUhf9
Sanrio has brought its "small gift, big smile" philosophy to millions of fans across the world, and now Chaotic Moon Studios is bringing one of those small gifts—along with even more big smiles—to the iPhone and iPad. Putting a supercute spin on a classic game, the team at Chaotic Moon Studios designed and developed Hello Kitty & Sanrio Friends Checkers, which is available for purchase in the iTunes store effective immediately.
"We are excited to launch an app that reaches not only Hello Kitty fans but checkers lovers too," said Ben Lamm, Chief Executive Officer of Chaotic Moon Studios. "It's the same classic game that everyone loves but features the timeless faces of Hello Kitty and Sanrio friends."
The Sanrio characters aren't the only enticing feature of the game. Hello Kitty & Sanrio Friends Checkers supports one player and two-player gameplay, allowing users to play against friends or test their skills against a challenging computer opponent. Players can also choose their Sanrio character identity such as My Melody®, Keroppi®, Chococat® and many more as they single, double and triple jump their way to being "kinged."
Today's gamers don't like their hard work going unnoticed, so the CMS design team designed a leader board where players can boast about their scores and challenge friends. High scores aren't only noticed by friends—they unlock fun Hello Kitty wallpapers too.
Hello Kitty & Sanrio Friends Checkers supports social network integration such as Facebook and Twitter so that players can invite friends and interact with fellow Hello Kitty & Sanrio Friends Checkers players.
"Sanrio has been enjoying success with its merchandise in the US market for over 30 years now, and Chaotic Moon Studios is grateful for the opportunity to take their success to another level in the mobile marketplace," said Lamm. "With our team's creativity and expertise in mobile gaming applications and Sanrio's long-standing, unique product line, Hello Kitty fans and iPhone and iPad users can expect more from this partnership in the future."
About SANRIO
SANRIO, best known for global icon Hello Kitty® and home to many more endearing characters including Chococat®, My Melody®, and Keroppi®, is celebrating its 50th Anniversary this year. August 2010 kicked off the golden anniversary for the worldwide lifestyle brand that was founded on the "small gift, big smile®" philosophy -- that a small gift can bring a big smile to people of all ages. Today, over 50,000 Sanrio-branded items are sold in over 70 countries around the world. In the Western Hemisphere SANRIO character-branded products are sold in upwards of 12,000 locations including department, specialty, national chain stores and over 100 Sanrio boutiques. For more information, please visit http://www.sanrio.com.
About Chaotic Moon Studios:
Chaotic Moon Studios is comprised of the most talented thinkers, designers, coders, and developers in the mobile media industry today. With over 400 years of combined experience, our team has practiced their craft alongside some of the most innovative companies in the world, including both Apple and IBM. They are award winners, Open Source thought leaders, iPhoneDevCamp founders, and even doctors. Between them they hold over a dozen patents and have been interviewed or written for magazines the likes of Wired, ComputerWorld, and Business Week. As the world's most proven mobile application studio, they provide everything from initial brainstorming and strategy, to custom development and publishing, to managing an entire mobile presence in any application marketplace. For more information, please visit http://www.chaoticmoon.com
###