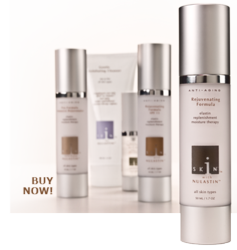 This is skin. It's the real deal. It's being used in medical research.
Boulder, CO (PRWEB) July 19, 2011
Looking younger and feeling healthier is the advantage of using Nulastin LLC products. All it takes is two easy steps! What makes SKIN® by Nulastin™ skincare products different? Elastin. Or, to be more precise, Elastin Replenishment Moisture Therapy. Once in the morning and once at night is all you need for smoother, healthier, younger-looking skin.
Elastin is the key ingredient in Nulastin™ products. Elastin is present in our bodies and allows skin to reclaim its original shape. Unfortunately, this shape reclamation ability diminishes after puberty, leaving us with undesirable wrinkles, creases and fine lines. Stress and sun exposure accelerate this process. Nulastin™ successfully restores the skin's youthful look and feel, delivering desired results by stimulating the body to build back its natural elastin supply and providing a boost of moisture.
Dr. Burt Ensley, Ph.D. in Microbiology, is the only biologist who has been able to put elastin into a luxurious topical moisturizer that helps reverse the visible signs of aging. Dr. Ensley succeeded in efficiently synthesizing human tropoelastin, and subsequently developing a proprietary, patented formula. The result is a remarkably effective anti-aging elastin replenishment skincare product. The elastin replicated molecule, Nulastin™, is made through the fermentation of plants. It uses a chain of 600 amino acids in a patented molecular delivery system, and restores skin's elastic properties by stimulating the replenishment of elastin in the matrix of the skin.
"We make a molecule that is not a drug, does not diagnose, treat or prevent any disease. Our ingredient is not kelp or pomegranates or Swiss apples. This is skin. It's the real deal. It's being used in medical research." Dr. Ensley.
ProliSel®, also developed by Dr. Ensley, is the other proprietary key ingredient in the Nulastin products. ProliSel® is a patented source of highly bioavailable selenium that helps protect against oxidation and free radical damage caused by UV radiation.
In answer to the consumer's desire for simple anti-aging skincare, SKIN® by Nulastin™ products were designed with a two step regimen in mind: cleanse and moisturize. It's that easy. For those who desire extra moisture around the eyes or lips, an optional third step is available. The Intensive Hydrating Serum provides that extra boost of Nulastin™ and skin hydration.
SKIN® by Nulastin™ - your simple answer to a complicated world of beauty products!
Nulastin™ LLC was formed in 2010 for the purpose of marketing some of the world's most advanced products in the very large and rapidly growing anti-aging skincare marketplace. Nulastin™ may be purchased from select dermatologists, spas, and skincare professionals, directly from their website at http://www.SKINbyNulastin.com, or by calling 800-210-0082. Their patented ingredients, Nulastin™ (tropoelastin) and ProliSel®, make SKIN® by Nulastin™ a standout in the world of anti-aging skincare for men and women, promoting the replenishment of lost and damaged elastin. Nulastin™ LLC is headquartered in Boulder, Colorado.
###