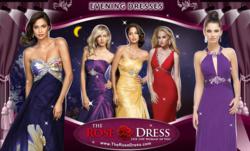 New Beautiful Designs and Styles are added but still at affordable price and Now for Free Shipping
San Jose, CA (PRWEB) July 09, 2011
TheRoseDress.com is extending its free ground shipping promotion for orders that reaches $150 to all brands. New lines are added from Alyce, Terani, Mon Cheri, Night Moves and Jasz Couture, including the creations of TheRoseDress latest addition in the family: LE, CO and Blush. Furthermore, TheRoseDress continually gives wide selections of eye-catching designs and styles at low price guaranteed in fast delivery; no doubt customer service remains to give assistance in whatever inquiry customer have, regarding TheRose products and services.
Evening Dresses/Formal Dresses
Evening wear have been discovered long time ago because fashion experts see the need for this type of dresses. Dresses that do not necessarily make one stand out but boost one's confidence and are comfortable to wear all night long. TheRoseDress evening category showcases varying sections where customer can choose numerous dresses in different styles, designs and colors. For conservative yet elegant dresses, "modest evening dress" category is the right page to go. If one's interest goes for seductive and sophisticated styles, the "sexy evening dress" section would be the best choice. Or, if customer would rather go for extravagant and glamorous outfit, the "designer evening dress" category carries all undeniably stunning designs and styles. And, for females who are in larger size measurement, scan the dresses featured under "plus size evening dress". Finally, TheRose "non-designer dresses and evening dresses under $100" are categories for affordable yet gorgeous and quality made outfits. New lines are added each category including the collection from the newest designers of TheRose: CO, LE, and Blush.
"Designer Dresses" seem to have certain appeal to the customer that made them always the top choice. It is no wonder since all designer dresses are commonly celebrity inspired. Rich, elegant, sexy, trendy and glamorous dresses are widely offered at TheRoseDress at reasonable prices which can be further enjoyed because free shipping promotion is extended. A collection of designer dresses from artistic and talented designers like Alyce, Blush, Faviana, Jasz Couture, Nina Cannaci, Night Moves, Terani and Tony Bowls. Poly satin, charmeuse and chiffon are the staple material used for these dresses. Such high-quality material commonly used to formal wears that made dresses outlandish from other common wardrobe.
In any formal event, the design and style of a dress is an important factor that should not be neglected. It distinguishes the formality of the event. And above all, it must complement a person's total appearance. In order to glam up the ladies who are in budget tight, "Non-designer dresses" page was created. TheRose is simply giving wider option to its valued customers -- options to find a gorgeous dress at inexpensive price. TheRose has high standard criteria before displaying a dress and introducing a designer, therefore, the non-designer dresses are assured to have the quality and design that meet the standard of the buying public. The lovely dresses in this page are also for free ground shipping once minimum order reaches $150. LE and CO, and among other designers like Aspeed, Cinderella Divine, Chicas, Eureka, Jackie Won, May Queen, Night Scene, Nox Nariana, Pelicana and Poly USA have added their new creations, as well.
To ladies needing a larger size evening dress, the best resource is TheRoseDress.com. The plus-size category for evening dresses has variety of selections from top-known designers, namely Terani, Eden, and Night Moves. Some designs from the latest addition in the family "CO". And, from the all-time favorites like Cinderella Divine, May Queen, Poly USA, Aspeed, Nox Nariana, Eureka, Chicas and Jackie Won. They too cooperate in dolling up the females in plus sizes. Dresses that are in sizes 4X or 18 and above are easily found in this page. In addition, TheRose placed an easy sorting system where customer's can arrange the prices of the dresses according to the lowest to the highest price tag. The dresses at this page are likewise eligible for free shipping once minimum order reaches $150. More designs and styles are added to quench the thirst of the plus size female aiming for gorgeous dresses at an affordable price.
Before modest dresses are picturized to be long and covered. But as fashion industry evolve along with fast-paced time; dresses in modest style are presented a lot differently than before. Of course, fashion cannot sit still as time modernizes. Even modest dresses must be acceptable to today's fashion trend. TheRose ensure that women who are comfortable in wearing this type of dresses, are too, in any way, elegantly fashionable and stylish. TheRose boast the large collections coming in for "Modest Evening Dresses". Dresses that is still sexy yet modest in style. Customers can choose amongst the dresses with blazer, bolero and shawls; off-shoulder, capped sleeves, single straps and V-straps long dresses; short sleeves, long sleeves and bell sleeves dresses are also available. Color options were metallic, pastel to dark shades.
There are females who are inclined to wear sexy dresses to most of the events they are invited to. These females are not afraid to try the new trend fashion has to offer. Thus, TheRose celebrates with the ladies around the world, and showcases dresses suitable to fashion updated women from high-end designers: like Night Moves, Nina Canacci and Tony Bowls; new styles are added from Cinderella Divine and Nox Nariana that might strike an interest to females who are inclined for sexy affordable evenings. The all-time favorite designers have posted some collections they have, that go under sexy evening dresses section. So, customers who are fan of Aspeed, May Queen, Eureka, and Chicas, don't be disheartened for the creations of these designers are one of the dresses featured at "Sexy Evening Dress" category. Scroll up and down to go to the next page and see the numerous outfits to suit the need and style of every fashion oriented females.
TheRoseDress never forget to put a category that will show all the inexpensive dresses from its artistic fashion designers. Top of the line dresses that will please the senses and for prices that won't hurt the pocket. This category will come handy to budget wise patrons and soon to be patrons. The dresses and gowns at "Under $100 Evening Dresses" category can be arranged according to price, from lowest to highest tags for easy sorting. Customers will see the affordable ones are first on the line going up to the dresses that reaches almost $100. Take note the dresses are not limited, customers can choose from varying colors and sizes offered by well-known designers such as Cinderella Divine, Poly USA, May Queen, Eureka, Nox Nariana, Aspeed, Pelicana and CO. Modest, sexy, fashionable and elegant dresses are sure to impress every ladies from different part of the world.
Inevitable incidents caused other ladies not to prepare sooner, and so they end up rush buying. TheRose can assist ladies who are facing such dilemma. The "In-stock Evening" category from TheRose has large collections of dresses from high end designers like Alyce, Eden, Faviana, Jasz Couture, and Terani. Dresses from the customer-favorite designers such as Aspeed, Cinderella Divine, Eureka, May Queen, Night Scene, Nox Nariana, Pelicana and Poly USA have shown some creations, too, for immediate shipping. The item identifications of the dresses are in default, arranged in alpha-numeric fashion. Moreover, customers can price sort the dresses to facilitate their searching. Other features that may make search less tedious are the in-store inventory database where customer can put-in any combination amongst the sizes, colors, prices, item numbers and vendor IDs in the drop-down menu; and, the top to bottom page locator where customer can choose to go to the next page without going back up again. Easy viewing of the available colors and sizes of a particular dress are shown per pages already. All the dresses showcase under this category are for immediate shipping and they are all guaranteed available.
In a rush to find a dress for an important evening affair? Or probably in certain limited budget and need a dress as soon as possible? Being in such predicament is too much of a hassle, isn't it? And so, TheRoseDress.com urge the ladies to check the affordable dresses that are for rush orders. The "In-stock Evenings on Sale" category carry dresses having dropped down prices, almost half to its regular price. Colors and sizes that are available and ready for immediate shipping are shown at one page only, so customer can submit an order right away. Easy search thru the use of the in-store inventory search system and speedy sorting of prices in two ways: lowest to highest and highest to lowest price buttons located just below the search database. To view the picture and see the larger size, just place the mouse point over the picture and click. To view the detail information of a certain dress, just click the "view detail" found at the bottom of the picture. Customer can submit an order right away by clicking "add to cart" which is both located in the inventory page or the detail page of the dress. Easy, fast and hassle free online shopping.
TheRoseDress.com Office / Warehouse is located in San Jose, California. With over 7,500 square feet in size, there are over 30000 in-store dresses available for immediate delivery/shipping which makes it possible for customers to receive orders overnight. Catalog database shows all items that can be ordered, and In-Stock Inventory database shows all items at the warehouse that can be shipped out immediately. To qualify for wholesale, customers are required to purchase twenty dresses (non-sale item) or more. For any questions, visit our website TheRoseDress.Com and email to askus(at)therosedress.com or orderdesk(at)therosedress.com. Or call at 408-404-3399. Or use live chat: http://messenger.providesupport.com/messenger/therosedress.html
###