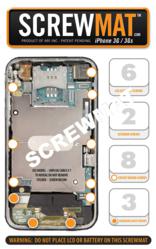 The ScrewMat provides an easy reference guide and magnetically holds your important pieces all at the same time.
Tulsa, OK (PRWEB) July 06, 2011
Most repairs for technical devices such as cellular phones and hand held devices require detailed attention to both the parts and the order in which those tiny pieces are disassembled and put back together. The ScrewMatTM makes the process of cellular phone repair and replacement much more efficient by saving time, parts, labor hours and headaches.
Alex Iser, President and CEO of The Phone Doctors, started a company to fix phones in early 2002, at a time when most people were simply throwing them away. Iser knew that replacement phone costs were expensive and that most people had damaged their cell phone one way or another prior to the end of a cell phone contract.
Today, with four locations in the Midwest, Iser spends his time training cellular phone professionals in his stores and independent stores nationwide on the art of how to efficiently and effectively repair and recycle cellular phones and hand held devices such as the iPod touch and iPad 2. The ScrewMat has become an essential tool for cellular phone repair.
"If you can know exactly which piece to remove, where it is located, and when to replace it, cell phone repair becomes much easier and efficient. Especially for new employees and those interested in fixing their own phones." said Iser. "The ScrewMatTM provides an easy reference guide and magnetically holds your important pieces all at the same time."
The ScrewMatTM is currently available for the iPhone 3G/3Gs, the AT&T iPhone 4, the Verizon iPhone 4 and the iPod Touch 4. Other ScrewMat tools will be available in the near future.
For More Information, please visit: http://SCREWMAT.com
About ScrewMat:
SCREWMATTM was founded in 2010 to help cellular phone repair professionals and do-it-yourself amateurs efficiently and easily repair and replace parts within cellular phone, smart phone, and hand held devices.
About The Phone Doctors:
The Phone Doctors is a privately owned retail cellular phone repair chain that is committed to offering quality replacement and repair. The Phone Doctors has served over 500,000 customers since 2002.
###