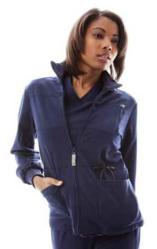 Anti-Wrinkle Finish
(PRWEB) July 06, 2011
New Balance started as a Boston-based company in the 1900's in addition to there already impressive array of products they added a New Balance Healthcare Line. With the tremendous success albeit numerous back orders due to such high demand the line was off to a great start. Now that we are off an running everything has been fine tuned to be running full tilt mid-July. We are excited to announce all styles are now available in the three new colors Black, Galaxy Blue, and Wine. A new style for women the On-Call top(#118) in Kismet Print, and Rogue Top(#150) and Pant(#250) for men. Scrub Couture will also hopefully be carrying their Medical Footwear line.
The New Balance Healthcare line features the softness demanded by healthcare workers, with a new focus on stretch. The super-soft blend also boasts Lightning Dry comfort-management technology and an anti-wrinkle finish to keep healthcare professionals looking sharp!
Pictured to the right is a full outfit in Aviator, highlighting the New Balance Stat Jacket.
###