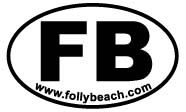 FollyBeach.com is the place where regulars and potential visitors connect with Folly Beach online.
Folly Beach, SC (PRWEB) July 07, 2011
Folly Beach property owners are learning to call FollyBeach.com home when looking to connect with vacationers thanks to the recent release of the Folly Beach Rental Marketplace.
"Unlike generic rental sites out there, our only focus is Folly Beach" said Kelly Daniel, who is in charge of client relationships. Daniel also noted the website is mainly about "sharing Folly Beach with visitors who love it rather than just shoving rental listings in front of people". Visitors to the site first find weekly blogs with topics ranging from the best local eateries to monthly fishing reports. Visitors can view the events calendar, weather forecasts, among other useful information.
For homeowners looking to rent their property, the Folly Beach Rental Marketplace is not only attractive because of the results it brings but also price competitive compared to other services. "We charge a small flat fee for listing, and we guarantee homeowners will receive much more than that from business earned with FollyBeach.com" said Blake Bookstaff, owner of the site. Unlike other services, the homeowner can pay monthly with no contract. "The service sells itself so we have no need to collect annual dues or lock customers into a contract" Bookstaff said.
About FollyBeach.com
Since 2002 FollyBeach.com has been the place where both potential and regular visitors alike connect with Folly Beach online. FollyBeach.com visitors can experience Folly Beach from their computer screen by reading useful information, viewing or sharing pictures, watching videos, and research places to stay or vendors to do business with ahead of their trip.
Those interested in planning their vacations can view Folly Beach rentals here. Home owners looking to share their properties can start the interview process by calling 888-279-8433 or by emailing Kelly(at)follybeach(dot)com.
CONTACT:
Robert Hart
520 Folly Road, Suite 177
Charleston, SC 29412
PHONE. 1-888-279-8433
EMAIL: robert(at)follybeach(dot)com
###