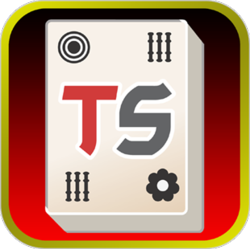 "TileSpeak Mahjong is a fun and addictive way to learn a second language. We've made passive gaming a constructive outlet, empowering people who want to learn a second language at their own pace." - Robert Bryant
San Francisco, CA (PRWEB) July 06, 2011
TileSpeak Software, an innovative new mobile application developer focused on blending gaming entertainment with education, has today announced the release of TileSpeak for iPhone, iPad, and iPod Touch devices running on iOS 4.0 or later. Half educational tool and half outright mobile game, TileSpeak Mahjong provides anyone interested in learning the Chinese language with a way to develop and expand their comprehension of written Chinese characters by simply playing Mahjong Solitaire on their mobile devices in their free time. TileSpeak is currently available for download on the Apple App Store for $1.99 in the Education category.
Though it has a dual function, this app makes no compromises. It offers a vast array of in-game character associations for both Mandarin and Cantonese language variations while taking care to provide casual gamers with a fully featured Mahjong experience that can stand in its own right as well. Boasting a full curriculum for both Chinese language variations it supports, TileSpeak Mahjong introduces users to 500 of the most commonly used Chinese characters in each language.
Each game piece in the app is stamped with a single character, and bears a tonal association by color on the game board. TileSpeak substitutes these pieces in place of a normal Mahjong game piece set -- normally grouped together as numbers and directions – and simply lets users start playing and learning. Each piece includes the correct pronunciation of the Chinese character it features phonetically spelled in Pinyin for ease of learning. Each character-inscribed game piece will reveal its English translation once selected by the player to reinforce their language development effectively as well.
Mahjong Solitaire is a game of repetition that is addicting as it is entertaining, and it's these same properties that become the user's central asset as they develop their Chinese language skills playing TileSpeak Mahjong. Much as avid Mahjong players are able to memorize every single piece on a normal board setup, committed TileSpeak Mahjong players are almost guaranteed to memorize every game piece they use as well. With these sets comprised of 500 unique characters, once players memorize the game, they will have essentially attained a roughly 75% written literacy rate in whichever language they've chosen to study when they've mastered one of the app's board "curriculums". They say practice makes perfect, and with TileSpeak Mahjong players simply need to master the game to master their choice of Cantonese or Mandarin.
About the Developer
Founded and run by software entrepreneur Robert Bryant, TileSpeak Software is a mobile app development company that believes engaging games make for some of the most viable learning tools. The studio's inaugural release, TileSpeak Mahjong, proves this axiom by utilizing the addicting excitement of this titular game to help users develop their knowledge of Chinese. © TileSpeak Software 2011, Patent Pending. All Rights Reserved. Apple, the Apple logo, iPhone, iPod and iPad are registered trademarks of Apple Inc. in the U.S. and/or other countries.
###