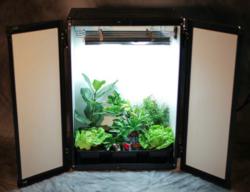 At $595, the Bloom Buddy is extremely affordable. Units this size usually cost about twice this amount.
Northridge, CA (PRWEB) July 07, 2011
Dealzer.com has not only introduced 2 new and affordable grow boxes, but it has also discounted 2 other, more expensive hydroponics systems for the month of July.
The 1st discount grow box is called the Bloom Buddy. The Bloom Buddy is an 8 plant system that stands 41" tall. At $595, it is considerably less expensive than most other hydroponic systems. The larger version, the Bloom Bully, costs $1395 and stands 82 inches tall. The Bloom Bully entails an 8 plant system contained in a vertical hydroponics grow box system.
The discounted hydroponic systems include the Super Deluxe and the Trinity. With a coupon code listed on the homepage of Dealzer.com, hydroponics users can save $200 - $300 for the month of July. Both the Super Deluxe and Trinity are large scale commercial hydroponic systems. These grow systems are designed for those looking for large scale gardens.
Along with the coupon offers, Dealzer is also having a store-wide sale. The savings vary from item to item. For example, the Mini Mortgage Lifter is set at $1750 but retails for $1995. This is a $250 savings. On the other hand, Emily's Garden retails for $109.95 but is currently set at $89.95. Each item is affected by the sale and savings vary from 3%-25% on average. The only exceptions are the Super Deluxe and Trinity which are on sale but also have coupons available for further savings.
Company Information and History:
Dealzer, established in 2001, has long been a hydroponics systems provider for those looking to grow indoor plants. The hydroponics provider sells primarily to online customers and is available 7 days a week by phone, email, or live chat. The company currently has an A- rating on the BBB. Also, Dealzer.com offers a 3 year warranty on all of their hydroponics systems.
###