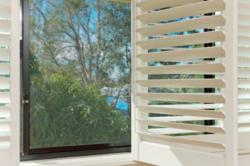 Security Screens are a foolproof way of ensuring kids remain safe from falls.
Brisbane, Qld (PRWEB) July 13, 2011
With winter fast approaching, government agencies remind parents that children fall from windows and balconies in the cooler months too.
According to Philip Van Der Woerd, Managing Director of SecureView Australia, falls from windows and balconies is no longer a problem associated only with summer.
"While the number of incidents normally spikes during the summer months, our milder winters mean many people keep their windows open year-round," he says. "As a result, we are seeing a significant number of children falling from windows in winter."
According to Kidsafe NSW, one child falls from a home window or balcony every week in Australia. This can lead to serious injury or death.
"Children between the age of two and five years are at particular risk of falling. However children as young as one year and older age groups have also been injured because of falls from a window" reports Kidsafe NSW.
With an increasing number of people living in multistorey houses and apartment blocks, parents need to ensure this problem does not continue to escalate.
Philip Van Der Woerd believes we would see a reduction in these accidents if less people relied on flyscreens to prevent falls.
"Flyscreens keep out flies and insects," he says. "They were never designed to prevent people falling from windows."
Experts recommend windows not open more than 10cms and parents keep furniture well away from windows. If windows must be opened, parents should consider security screens that lock firmly into the window frame.
"We have seen an increasing number of families install security screens on their windows," says Van Der Woerd. "It is a foolproof way of ensuring kids don't become a statistic. Parents can't put a price on their children's safety".
About SecureView Australia
SecureView Australia has licensees Australia wide. SecureView Australia distributes Highly Evolved Security Screens for both residential and commercial needs. We specialise in an extensive range of custom security screen products; from security windows and doors, fire escapes, cyclone screens, balustrades and more.
SecureView Australia has over 100 expert licensees located throughout Australia. Each licensee is fully trained to manufacture and install quality SecureView products. Visit secureview.com.au for more information.
SecureView Security Screens surpass all Australian Standards for security products.
SecureView Australia was recently named #22 on the BRW Fast Starters list for 2011.
###