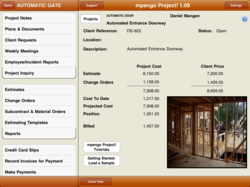 "...as a professional interior designer I can honestly say that I have never seen an app that offers all the things I need in my daily work, from notes to photos to budgets... but it's all here."
just.vaughn review in app store
Toronto, Ontario (PRWEB) July 07, 2011
mpengo Ltd. introduces a unique suite of on-site digital tools. Billed as the only software of its kind for 'mobile professionals', this suite capitalizes on the explosively paced move to tablets. Designed for the iPad,mpengo Project allows users to perform all of their work electronically and on-the-spot with clients, staff, trades, and suppliers.
The app changes the way business is conducted. Instead of bringing work back to the office, the office can now be brought to the work – effectively moving the office directly to the job site.
mpengo Project will replace or complement the work contractors, home renovators, interior designers, and landscape architects currently do on paper and bring back to the office computer. An entire project, from collecting notes at the initial meeting with clients, to confirming agreements, product and job lists, staff scheduling and payment, and invoicing are all built into the suite.
New to the industry is this application's ability to collect sign-off from clients and suppliers through electronic signature capture directly on the iPad. This will no doubt help end discussions of who promised what at what price. All can be agreed to up front and immediately.
Also new for users is electronic access to reference documents such as manuals, guides, and blueprints. Working documents produced on-site such as notes and invoices can be emailed directly from the tablet to clients or other colleagues.
mpengo Project is priced at $49.99 for the basic functions, with additional capabilities for more advanced users available for purchase from within the suite. All updates to the software are automatic and included with the purchase price.
mpengo is the brainchild of Gary Jonas & Mary Jonas, founders of two large legacy based software companies specializing in software for the construction trades and other industries. Together with their team of specialists in Canada and the United States, mpengo Project is their latest offering to address this new niche of mobile professional contractors and designers.
This app moves office business outdoors. It increases efficiency and accuracy, and reduces the end-to-end costs of management and administration of construction or design projects.
It's also more fun than desktop software!
Mpengo Project is now available only through the Apple App Store™.
Watch a Demonstration
###