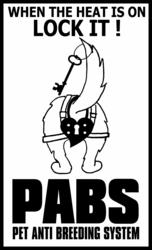 When The Heat Is On
STOP IT, BLOCK IT, LOCK IT
Shreveport, LA (PRWEB) July 07, 2011
PABS founder, Dexter Blanch, and Highly Favored Creations, LLC is pleased to offer a solution to pet owners everywhere wanting to preserve their pooch's blood line or protect from unwanted or accidental breeding. Spaying and neutering has been around for over 30 years, but is not necessarily the right solution for all owners and pups.
"Some of our customers can't spay their dogs for medical reasons, some of them want their dogs to mature and cycle a few times before taking that route, and some may not believe in spaying at all," said Blanch. "Whatever their belief is, PABS is a safe, cost effective and humane solution to protect from unwanted breeding/mating."
Each patented belt features a lightweight mesh and polypropylene pouch that holds the optional eco-friendly sanitary pads. The 8-point buckle system ensures a custom and proper fit every time and lets dogs run, play and hang with the pack without restriction. A rear opening makes sure there's no interference with bathroom breaks as well.
According to the American Veterinarian Medical Association, many pet owners feel that pets should be spayed or neutered only if their behavior becomes an issue, and not until their growth plates have closed. Because the age of puberty differs from breed to breed, PABS can be essential during this maturity phase.
"The search is over. PABS, Pet Anti Breeding System is a remarkable innovation in controlling and managing breeding. I am simply moved by this innovation. It will dramatically improve the way we breed our pets, "said well-known Premier Dog Handler, Terri Galle.
To request interviews, images, samples or additional information please contact Dexter Blanch at Highly Favored Creations 877 224-7706, info(at)pabsforpets(dot)com. Or visit http://www.pabsforpets.com.
Highly Favored Creations, LLC, supports responsible breeding and pet ownership. We are committed to building awareness and educating the public as a deterrent to irresponsible breeding practices that too often leads to the horrors and abuse of dogs; increasing shelter population and decreasing quality of life. PABS products are proudly made in the USA and are available for purchase online at http://www.pabsforpets.com.
###