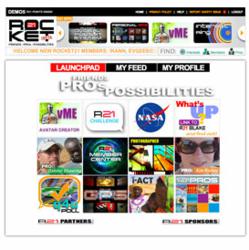 At Rocket21, kids have the world at their fingertips through engagement with extraordinary people, institutions, and ideas." said Jodell Seagrave, Rocket21 President/COO. "We understand that providing kids with a place to dream is a powerful proposition.
San Francisco, CA and New York, NY (PRWEB) July 06, 2011
Rocket21, (GPS for Your Life), the breakthrough new social network where kids explore amazing possibilities for their lives and futures, has emerged from extensive private BETA trials and is now publicly available to all youth, with a focus on tweens and younger teens.
"At Rocket21, kids really do have the world at their fingertips – with direct access to and engagement with people, institutions, and ideas that make it all go round," said Jodell Seagrave, Rocket21 President/COO. "Dreaming about the future is a natural part of kids' lives. Now they have a safe, vibrant, authentic community for exploring life's possibilities."
The Rocket21 founding team has worked in youth media, technology, education, research, and entertainment for decades. "A shared vision for a transformative venture leveraging social media to help kids thrive brought us together," added Mark Grayson, Rocket21 CEO. "Rocket21 leverages insights we've developed through entire careers spent immersed with youth. We understand that providing kids with a place to dream is a powerful proposition."
Rocket21 PROs include hundreds of real-world experts from countless fields who have built professional lives and legacies around passions kids share and amazing things kids dream of doing. Such unprecedented access enables kids to connect, learn, and be inspired – critical advantages as they chart their own courses for life and success. "Rocket21 facilitates opportunities for kids to be part of a vibrant community of thinkers and doers – people who are generally not accessible to kids' worlds," noted Steve Snyder, SVP/Visual Design & Production. "Witnessing kids and their friends engage with accomplished and acclaimed musicians, scientists, artists, architects, surgeons, entrepreneurs and so many more during our closed BETA has been just magical. We're well prepared now for the venture to scale."
Rocket21 has already inked several content, PRO, and distribution partnerships, including the Captain Planet Foundation (supporting hands-on environmental projects for children and youth), Horizons National (a non-profit organization providing underserved children access to high quality academics in engaging summer programs), Camp Broadway (Broadway's original camp for theatre-loving kids), and i-ACT (whose innovative technology fosters interactions between genocide victims and their supporters). Other partnerships will be announced in coming weeks.
Rocket21 is at the leading edge of online safety for youth and protects its members with state-of-the art, real-time filtering and human moderation, extensive safety and security precautions and practices, and a specialized infrastructure designed to keep kids safe.
For more information about Rocket21, please contact Media Relations at media(at)rocket21(dot)com.
###